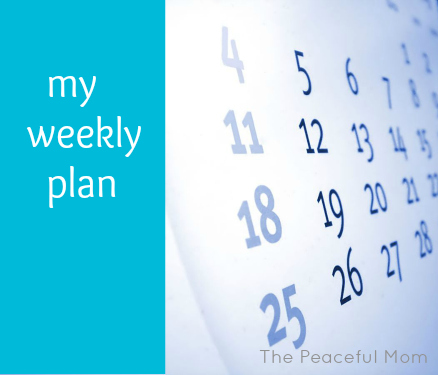 Each Sunday evening I make a weekly plan to ensure that I am focusing on what is truly most important in my life, rather than just staying busy.  
I have used various kinds of calendars, agendas and printable pages, but my current favorite is to hand write my plan. Rather than making a simple to do list (boring!), I like to focus on the things that bring joy and happiness to my life.
LAST WEEK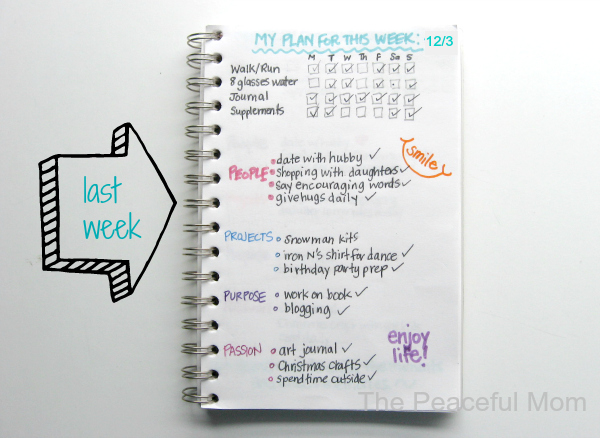 I divide my plan into five categories:
PERSONAL-habits that keep me healthy and sane
PEOPLE-activities that promote relationship with the people I love
PROJECTS-priority tasks that I want to focus on this week
PURPOSE-tasks that promote my purpose in life
PASSION-things that I love which enable me to enjoy life
Last week I accomplished most of what was on my list, but had trouble with the 8 glasses of water a day so this week I am adjusting that to 6-8 glasses of water a day.
Mr. Peaceful Mom and I enjoyed a movie night at home, but he said that doesn't really count as a date so we will see what creative idea we come up with this week.
THIS WEEK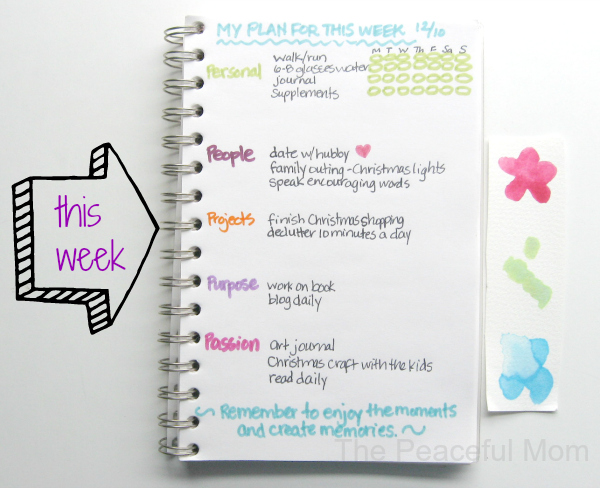 This week I am continuing with the reminder to speak encouraging words to my family. I can definitely do better in that department.
I am also working on the 10 Minutes A Day Decluttering Challenge by unpacking and organizing our Christmas decorations and other holiday related stuff.
What do you have planned this week? Leave a comment. 🙂
If you'd like to print your own weekly planner, click here for access to my FREE printable planners.
You May Also Like: