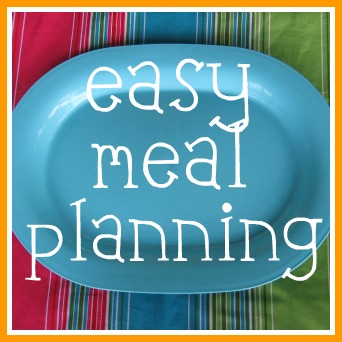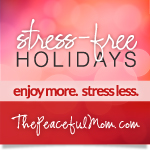 Stress Free Holidays-Your step-by-step plan to enjoy more and stress less this holiday season!
Click here to read all the posts in this series.
Easy Meal Planning– With all of the craziness of the Christmas season, it's very easy to spend extra money on eating out because you're just too busy to think about meal planning.
For the next few days, I'll be sharing some easy ideas to help you keep dinner on the table so you enjoy more and spend less! (Read part 1 here.)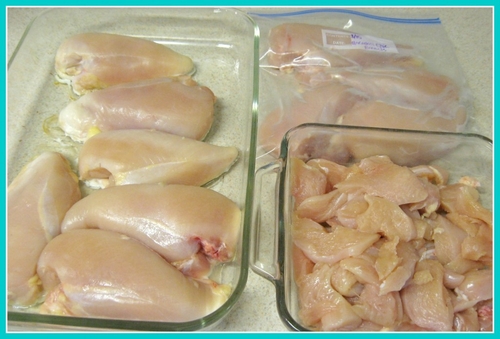 Use Bulk Cooking
One of my favorite ways to make sure my family gets fed is to use bulk cooking–cooking large amounts of food at one time to use in future meals. You can easily use this method by doubling a dish you are making for dinner and serving the second half later in the week, or freezing it to serve later in the month.
I typically use bulk cooking when I find meat on sale for a really great price.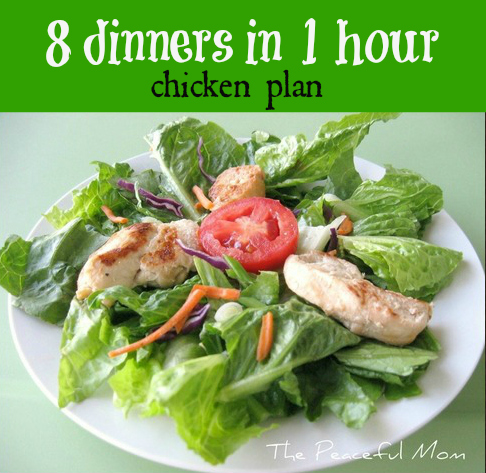 CHICKEN PLAN
Whenever I can find fresh boneless, skinless chicken breasts for $1.88/lb or less (best price in my area), I purchase 20 to 30 pounds and prepare it using my 8 Dinners in 1 Hour Chicken Plan here.
You can also make these meals:
Chicken Stir Fry– Cut chicken breasts into strips and marinate with Italian salad dressing. Saute stir fry vegetables in oil until almost tender. Push vegetables to the sides of pan and add chicken. Cook until done. Serve over rice.
Chicken and Black Bean Chili- (recipe here) Add precooked chicken (from the freezer) to the crockpot with canned tomatoes, black beans, corn and seasoning. Cook for 6 hours on low. Serve with corn chips.
Chicken Enchiladas–(recipe here) Combine 2 cups precooked chicken (from the freezer) with 1 1/2 cups salsa (we like black bean and corn salsa). Spoon chicken mixture into center of tortillas. Roll up and top with shredded cheese. Bake for 25-30 minutes at 350 degrees or until enchiladas start to brown. Serve with steamed green beans.
You can find more chicken recipes on my Chicken Recipe Pin Board here.
What are you favorite easy meals with chicken? Share in the comments. 🙂
Click here to read Part 3 with more easy recipes!
You May Also Enjoy: