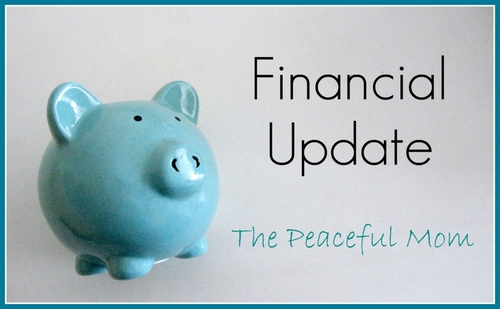 In conjunction with the Living on Less Than $28,000 A Year series, I started sharing periodic Financial Updates about our family's finances. I don't always give specific numbers, but I thought it might be helpful for those of you in a similar situation to take a peek at how things go at our house.
Spending
We did a great job in the grocery department again last month coming in well under budget at $380.89. I was able to find some great sales and I purposely made cheaper meals toward the end of the month so that we could use the extra grocery money to fund a family outing that included dinner at one of our favorite restaurants–something we rarely do.
Spending less on groceries also enabled us to spend money for our three oldest children to attend a Christmas Ball.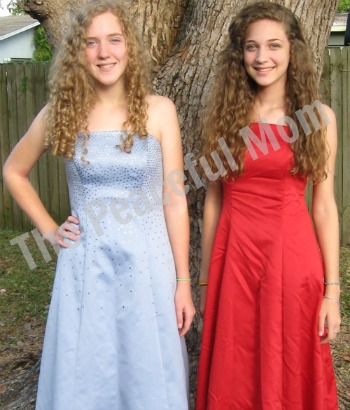 We were able to get two beautiful dresses for the girls at the thrift store that fit perfectly and just needed to be steamed to remove the wrinkles. The blue one was $19.99 and the red one was $12.99. We were able to completely outfit my son with designer dress pants, leather dress shoes, dress shirt, tie and leather belt for $100–gotta love discount stores like Ross and TJ Maxx! With the clothing and tickets, the dance cost us $170 total.
We made the decision to spend money for the dance even though we need the money for car repairs. Since the car is still driveable, we felt we could wait a little while longer on the repairs. Our teens have not had the opportunity to participate in a formal dance previously, and they have made some big sacrifices in the last couple of years with our move, so we wanted to make this happen for them.
Thankfully our spending in other areas this past month was on target or lower than expected (utilities $422, gas for our vehicles $341, toiletries $23).
Saving
While we would have liked to save more, all of the categories in our Freedom Account (read more here) are funded in the amounts that they should be except for the car maintenance and medical categories. Even with the aforementioned spending, we were able to add $50 to the car maintenance fund.
Our Emergency Fund is still very underfunded and unfortunately, we did not add anything to it this month.
Goals Update
Our goals for November were:
save money for our needed car repairs (√ -we saved $50)
add $100 to the Emergency Fund (X)
purchase some gifts for Christmas for our children (√-mostly done, but don't tell my kids!)
For December, I would like to save at least $200 toward the needed car repairs.
How was November for you? Were you able to meet any financial goals?
Leave a comment so we can encourage each other. 
(email readers will need to click through to the blog)
You May Also Enjoy: