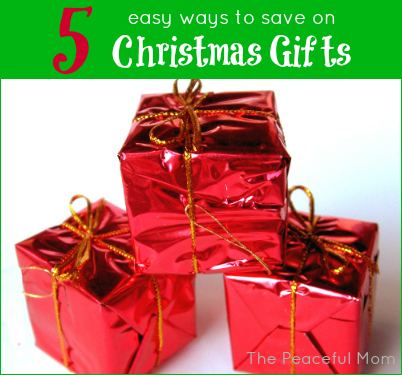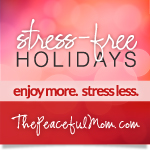 Stress Free Holidays-Your step-by-step plan to enjoy more and stress less this holiday season!
Click here to read all the posts in this series.
5 Easy Ways to Save Money on Christmas Gifts– Need to save some cash this Christmas? Try these 5 ideas to keep your gift spending in check.
Plan Ahead
The best way to save money on Christmas gifts is to make a plan before you head out to shop. If you haven't made a gift list before, now is the time to think about who you want to buy for and how much you want to spend.
Create a list which includes a space for the recipient's name, gift ideas, budget amount and a column to check once the gift is purchased. Make sure to look carefully at your finances to determine how much you have to spend. You don't want to get caught up in the excitement of holiday shopping only to be depressed in January when your credit card bill arrives.

Join the Peaceful Mom Community HERE and download my FREE Happy Holidays Planner with a printable Christmas Gift Planner!
Shop Sales and Clearance
The most obvious way to save on gifts is to purchase them on sale, but make sure that you have a plan before you shop and that you have an idea of the prices of the items you want to buy. You don't want to get caught up in a frenzied shopping spree that you will regret later.
Don't forget to look in the clearance sections of discount stores like Target and Walmart. Sometimes you can find great gifts for 70%-90% off.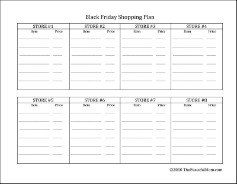 If you plan on shopping the day after Thanksgiving, you can print a FREE Black Friday Shopping Planner here to organize your shopping at various stores.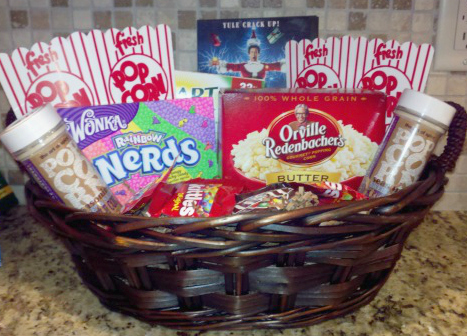 photo credit: For The Mommas
Think Creatively
Sometimes saving money means that you have to think creatively about your gift giving.
Draw Names — One idea is to draw names among your extended family members so that everyone buys one gift for one other family member. Set a budget range and have each family member write preferences and gift ideas on an index card or send them by email to one person who will organize the exchange. The organizer can then email each family member with the name of the person they will buy for and that person's preferences.
Family Gift Baskets –Another alternative is to give a gift basket to another family as a whole. For example, you can purchase one or two dvds, some king size candy bars and flavored popcorn to make a Movie Night Basket. Put some pancake and muffin mix together in a mixing bowl with a whisk and some maple syrup in a decorative bottle to make a Breakfast Basket.
Skip the Adults — You can also agree with your family to skip gift giving between the adults and focus solely on the children this year.
"Gag" Gifts — One year our family exchanged "gag" or joke gifts. The items had to be less than a dollar and could be handmade. We all saved money, but enjoyed some good laughs. If your family decides to exchange joke gifts make sure to set some ground rules such as not giving any gifts which would demean or offend the recipient.
The key to making gift giving alternatives work is to communicate and make sure that everyone in the family is in agreement beforehand. Have the conversation early to avoid conflict later.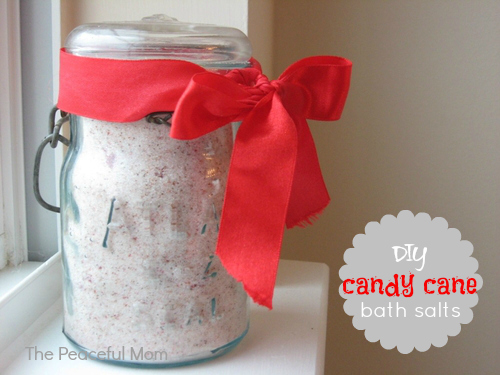 Make Your Own
Part of thinking creatively may involve making your own gifts like the super easy Candy Cane Bath Salts pictured above (click here for instructions and a FREE printable label)!
You can also check out my 25 Stress Free Gift Ideas post here for more ideas (like my Cherry Chocolate Chip Bread), or my Pinterest Gift Board here and my DIY Gifts on A Budget Board here.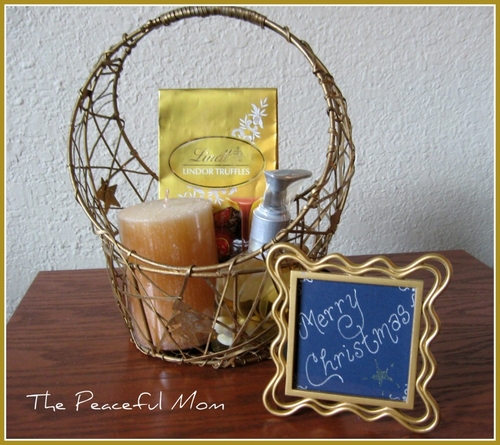 Visit the Thrift Store
At first you may think this is a tacky idea, but I have found some very nice gifts at our local thrift store. The basket, frame and candle in the photo above were all thrift store finds. I simply added some holiday hand wash and chocolate.
Some items to look for are glass containers that can be cleaned and stenciled or etched with a monogram; children's furniture which can be painted and personalized; nice baskets which you can fill with baked goodies or use to make a themed gift like the Breakfast Basket mentioned above.
You can also readily find picture frames at thrift stores. These could be used for a family photo or a decorative saying that you print from your computer.
Other things to look for include sports memorabilia, books, dishes and costume jewelry.
Watch my thrift store gift video here for a few tips on shopping at the thrift store.
With a little planning and creativity you can give nice gifts this Christmas and still have money left over to pay the bills in January!
How do you save on Christmas gifts? Leave a comment. 🙂
You May Also Enjoy: