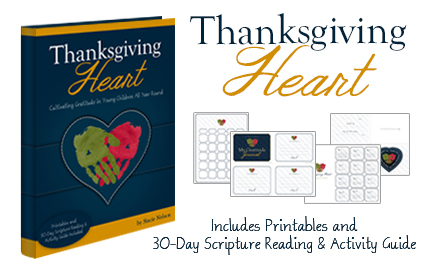 With Thanksgiving just around the corner you are probably thinking more about gratitude, so I wanted to let you know about an awesome new ebook that my blogging friend Stacey from Motherhood on a Dime has written called Thanksgiving Heart: Cultivating Gratitude in Young Children All Year Round.
This is not a book about the holiday of Thanksgiving but a great resource for cultivating gratefulness in your children for all things at all times.
The book includes:
Practical ways to encourage thanksgiving in children.
30 service projects
15 gratitude discussion starters for families
Application questions at the end of each chapter.
Printable 30-Day Scripture & Activity Guide
Printable Gratitude Journal
Printable Thank You Card
Printable Incentive Chart"
I especially love the printables in the back of this book.
The really cool news is that this ebook is available for the next 3 days for only $1.99! If you are a parent who wants to teach your children to be grateful, I really think you will enjoy this book.
*affiliate link