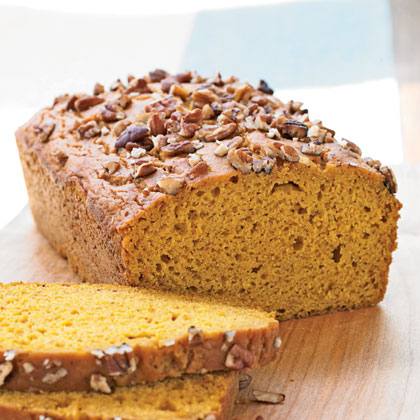 Photo Credit: Beau Gustafson; Katie Stoddard
Need a delicious Pumpkin Bread Recipe for the upcoming holidays? Try this one from reader Wendy C.! 
Ingredients
3 cups all purpose flour
2 cups granulated sugar
2 teaspoons baking soda
4 teaspoons pumpkin spice
2 teaspoons cinnamon
1 teaspoons salt
1/2 teaspoon baking powder
2 1/2 cups canned or 2 cups fresh pumpkin (if using fresh make sure to drain it well)
2/3 cup oil
3 eggs, beaten
1/2 - 1 cup chopped walnuts or pecans
1/2 tablespoon sugar plus 1/2 tablespoon cinnamon
Instructions
Preheat oven to 350.
Grease (2) 9x5 loaf pans with butter.
Sprinkle pans lightly with cinnamon and sugar.
Mix together dry ingredients.
In a separate bowl, combine oil, pumpkin, and eggs and mix well.
Combine wet and dry ingredients and mix well.(At this point you can also add a 1/2 cup of chocolate chips if desired.)
Pour batter evenly into pans.
Sprinkle with chopped nuts and cinnamon and sugar. (This forms a sweet crust).
Bake for 45-60 minutes.
Allow to cool before removing from pans.
Enjoy!
https://thepeacefulmom.com/2012/11/14/moist-and-delicious-pumpkin-bread-recipe/