5 Steps to Peace is a guest post by contributing writer Andee.
It's 5:25. The kids are screaming about whose turn it is to play the game system, the water is about to boil over and the dog just got sprayed by a skunk and is about to run in the house with that stink. Dinner is going to be late tonight.
Peace seems like some far away dream.
Or is it?
I have experienced many trials, but I have been able to glide through them most of the time. Today I'd like to share five tips that help me maintain my peace, and I believe they will help you move toward peace in spite of your circumstances. 
Reach out to a friend.
Find a friend that you can be real with and agree to tell the truth with each other. Find the humor in life and laugh together. Too often we can feel pressure to look like we've got it all together and not share the real deal. We feel trapped in this idea of perfection. I don't know about you, but when I get like this, I feel like I'm going to explode. I need to release the pressure, and sharing the truth sets me free.
Know that you are not alone.
No matter what challenge you are in right now trust that there are many women who have faced similar trials, and they've won! Find a group either in person or online that you can share with.
One of my current challenges right now is getting pregnant. I have been diagnosed with endometriosis and we are in the process of working with doctors, but just knowing what the issue is doesn't always ease the hurt in my heart. I have found so much encouragement reading blogs, participating in forums, and even sharing with friends who've had similar challenges. I believe that when we come together around an issue we can fight for each other, pray with one another and share our hurts as well as our victories.
Give yourself a break.
Nobody's perfect. Quite honestly, this world would be boring and sterile if everything was squeaky clean and happy all the time. We wouldn't even be able to appreciate the good moments. When you find you are being hard on yourself, or trying to hold yourself to an unrealistic expectation, pause and give yourself permission to do it imperfectly.
Laugh.
Watch a funny movie or take five minutes to watch something silly on YouTube. I heartily agree that laughter is the best medicine, so follow doctor's orders. 🙂
Believe in a higher plan.
For me, this is where I let go and trust that God has awesome plans for me, to prosper me and not to harm me, to give me a hope and a future. I believe this to be true for everyone. When I let go of my idea of what I think is best, I can release the pressure I have on myself, and trust there is a greater plan at work.
Finding peace is a journey, and it's one we're all growing in. I'll be your cheerleader as you move away from the challenges of life and into peace.
I'd love to hear about your travels on this path. What steps are you taking to find peace? Share in the comments.
You May Also Enjoy: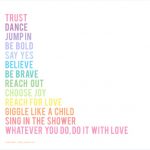 _______________________________________________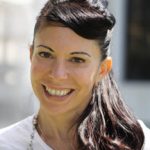 Andee Flynn is an author, speaker, personal coach and blogger. She makes it her goal to seek joy wherever she goes. Read more from Andee at Joyful Project. Follow Andee on twitter.