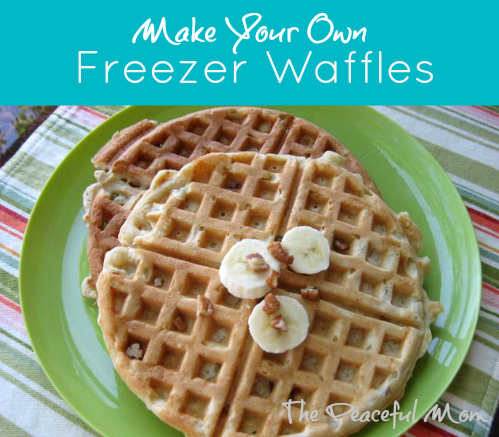 DIY Freezer Waffle Batter Recipe: I like the convenience of pulling waffles out of the freezer and popping them in the toaster, but I hate paying extra for that convenience so I created my own Freezer Waffle Recipe. (See my Gluten Free Waffle Recipe here.)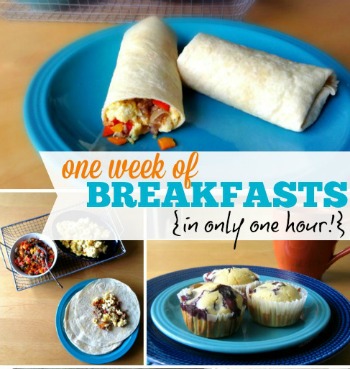 These Freezer Waffles are part of my 1 Week of Breakfasts in 1 Hour Freezer Cooking Plan here.
We make these in large batches and freeze them individually on cookie sheets. Once they are frozen we put them into freezer zipper bags (which we wash and reuse once the bag is empty).
You can see the cost savings breakdown here.
(We have a round waffle iron, so we have to break these in half to fit them in the toaster or warm them in the oven. If you have a square waffle iron the waffles will fit into a toaster better. ) 

DIY Freezer Waffle Recipe
Ingredients
3 cups all-purpose unbleached flour
2 tablespoons baking powder (not soda!)
1/2 teaspoon salt
2 eggs
2 cups milk + 1 cup water
1 cup light olive oil or preferred cooking oil
Instructions
Heat waffle iron and spray with oil.
In a large mixing bowl, combine flour, baking powder and salt.
In a separate bowl, lightly beat the eggs.
Add milk, water and oil and beat until well combined.
Add liquid to flour mixture.
Stir until well combined but slightly lumpy.
Pour approximately 1/2 cup of batter onto waffle iron (amount depends on the size of your iron).
Cook for the recommended time for your waffle iron.
Spray iron between waffles.
https://thepeacefulmom.com/2012/11/07/homemade-freezer-waffle-batter-recipe/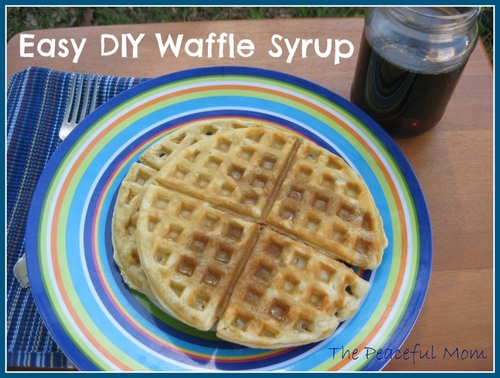 And click here for my easy DIY Waffle Syrup recipe!
You May Also Enjoy: