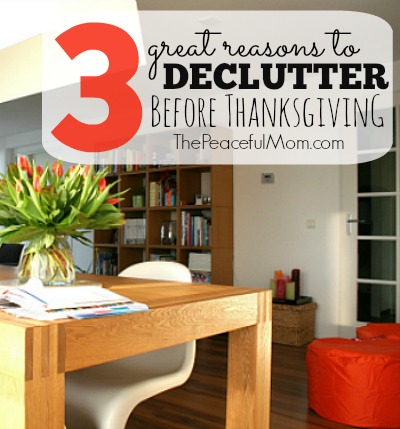 3 Reasons to Declutter Before Thanksgiving–It's November and Thanksgiving is right around the corner, but maybe your house isn't quite ready.
Here are three great reasons to declutter before Thanksgiving so you can have a happier holiday season.
You Need More Space
More than likely you have friends and family who will visit at some point over the next two months, or maybe you won't be having any company because you are too embarrassed about the state of your house.
Wouldn't it be great to be able to open your front door without running to hide things in your closet first? Wouldn't you love to be able to host friends in your living room without having to apologize for the stacks of stuff lying around?
Even if you don't need to make room for more people in your home, you will more than likely be adding more stuff for Christmas. Why not rid yourself of the things you are no longer using so you have room for all the new goodies?
You Need More Money
Believe it or not, your clutter is costing you money. Dealing with the constant distraction of the chaos in your home drains you of the energy to cook, plan or do other time and money saving activities. You may spend extra money on gas to drive to the store to purchase something because you can't find it in your home, or pay for services because you don't have the energy to do things yourself.
If you have a serious clutter issue, you may choose to spend time away from home to avoid dealing with it. Spending time away from home costs money: eating out, gas to drive to different locations and unnecessary purchases because you see something and "have to have it".
You Need More Energy
Clutter not only costs you money, it also drains you emotionally, mentally and even physically. Maybe you are the kind of person who has trouble remembering things when you can't see them. If you keep piles of stuff lying around as reminders instead of using a calendar or other organizational system, maybe it's time to rethink your strategy.
The problem with the "leave it out so I can see it, because when I see it I remember it" method is that each pile represents an undone task, which causes guilt. The guilt drains you, which means that you don't have the energy to actually do something about the piles of stuff. Getting rid of some of those piles before the holiday season begins will enable you to be more at peace.
If you realize that you need to do a little pre-holiday decluttering, take The Peaceful Mom 10 Minutes A Day Decluttering Challenge: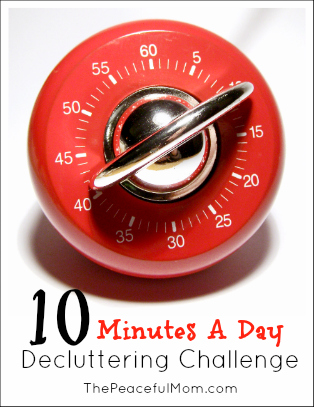 10 Minute Challenge Guidelines

1. Find 3 large boxes or laundry baskets. (You can also use garbage bags) Label them "GIVE AWAY", "THROW AWAY" and "KEEP".

2. Commit to 10 minutes a day. Every morning or afternoon for the next 3 weeks, spend 10 minutes in one room filling those boxes with the clutter that you see. Choose a more public room first like your living room, entry way or kitchen.

3. Immediately disperse the items. At the end of your ten minutes, put the "THROW AWAY" items into the trash immediately; put the "KEEP" items where they belong; and store the "GIVE AWAY" box in a closet until the next day. On your next errand day or on Saturday morning take the give away items to Good Will or Salvation Army (no going through the box again before you donate it!).
If you declutter one area a day for only ten minutes, you'll be amazed at how much you can accomplish in the next few weeks. The clean spaces in your home will fuel your motivation to continue and before you know it, you'll have a clean house ready for the holidays!
You can do this!
Will you join us for the Ten Minute A Day Decluttering Challenge?
Leave a comment and tell us which room you will start on tomorrow. 🙂
You May Also Enjoy: