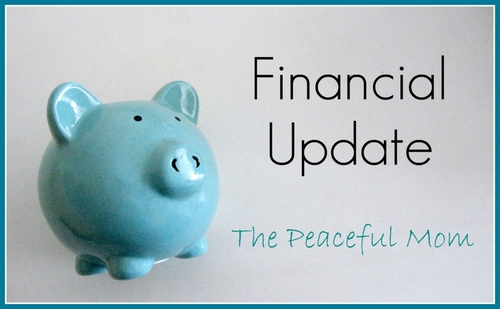 In conjunction with the Living on Less Than $28,000 A Year series, I started sharing periodic Financial Updates about our family's finances. I don't always give specific numbers, but I thought it might be helpful for those of you in a similar situation to take a peek at how things go at our house.

Spending
This past month we did great in the grocery department underspending by $80, but unfortunately we overspent in several other categories like clothing ($50 over) and household items ($38 over). I also spent $25 on toilet paper because I found a good sale, but at least we are stocked up for a while!
Thankfully the overages were not much and our income increased enough to cover it, but I would like to do better with the spending in November.

Saving
All of the categories in our Freedom Account (read more here) are funded in the amounts that they should be except for the car maintenance, medical and Christmas categories.
Our Emergency Fund is still very underfunded and I set a goal at the end of September to add $100 to it. The good news is that I was able to save $150. The bad news is that I had to add the money to the car maintenance category rather than to the general Emergency Fund because we have an upcoming repair.
Goals for November
For this month I would like to save the remaining money needed for the car repair and try again to add $100 to the Emergency Fund. We'll see how it goes.
I will also be on the lookout this month for inexpensive Christmas gifts for our children. It looks like the Christmas budget is going to be super tight this year.
How was October for you? Were you able to stick to your budget? Leave a comment so we can encourage each other. 🙂