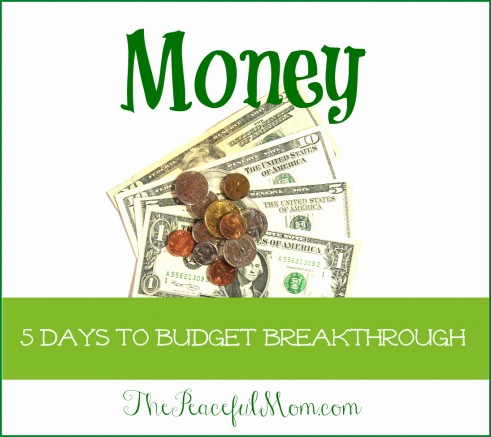 Money: 5 Days to Budget Breakthrough
Need to get your money back on track? Each day this week I'm sharing one step you can take to start gaining control of your finances. Follow along, take the action steps and find your budget breakthrough! [Click here to read all the Budget Breakthrough posts.]
Day 5: Get Cash Fast!
Sometimes you realize that you just need some cash infused into your budget to get things going in the right direction.
Today's challenge is to implement one or two of the following ideas and put the money into your second account to get a jumpstart. [Please Note: These are short-term strategies to help you get cash quickly in a short period of time, not rules to live by.] 
Enter Emergency Mode
For one week imagine that you are in an emergency situation and you can only purchase absolute necessities–no entertainment spending, no eating out, no shopping. If you run out of toilet paper, buy just enough for the week. Instead of buying the two pack of deodorant, buy the single stick. Put all of the money left in your account at the end of the week into your second account (Freedom Account).
Eat Cheaply
Have a week of super cheap meals (macaroni and cheese, beans and rice, quesadillas, pasta with sauce, tacos, pancakes for dinner, homemade or canned soup and grilled cheese, etc.). You can also eat food from your pantry rather than shopping. Take the money you usually spend at the grocery store and put it into your second account.
Sell Something
Find items in your house and garage that you can sell on Craigslist or other online websites. Put the money into your second account (don't use it to go out to eat 🙂 ).
You can also read the comments on 5 Easy Ways to Get Extra Cash here to get more ideas.
As a longer term strategy, you may want to increase your income by finding a part-time job or starting a home-based business:
baking

house cleaning

delivery service

moving service

lawn care

hand-made jewelry

babysitting/in-home child care
[Always follow the laws and regulations in your state and city regarding small businesses from your home.]
What strategy will you use starting today to find some extra cash for your second account? Leave a comment. 🙂
You May Also Enjoy: