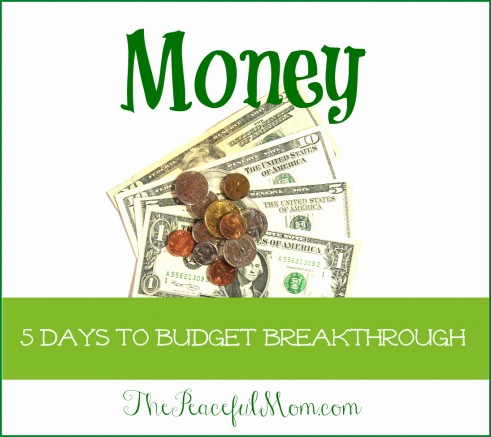 Money: 5 Days to Budget Breakthrough
Need to get your money back on track? Each day this week I'm sharing one step you can take to start gaining control of your finances. Follow along, take the action steps and find your budget breakthrough!  [Click here to read all the Budget Breakthrough posts.]
Day 4: Plan your paycheck
Today's challenge is to make a specific plan for your next paycheck. Here's a look at what we do:
1. Record direct deposit amount in the checkbook register and add this amount to the current balance to get our new balance.

2. On a post-it note, write the new checkbook balance and subtract money needed for basic necessities for this pay period (1 week) from the balance:

groceries* ($125)

non-food items* ($20)

gas for the car ($80)

small "cushion" to avoid overdrafts ($20 in our case, you may need more)

 [This $245 stays in the primary account.]

3.  Transfer remaining money to our second account (read more here) and update category totals for that account. I have divided the amount of each of our monthly bills by four so I know the amount we need to deduct from each paycheck to be able to pay each bill when it is due.

4. Pay current bills due (water bill $60) from the second account.

If money is left over once these minimum needs are met, we can decide to spend it on items like eating out, clothing, etc.
*I stop by the ATM on my way to do my shopping and take the $125 grocery money and the $20 non-food money out in cash.
You obviously don't have to do what I do, but you do need to find a method that works for you. Every dollar from every paycheck needs a "job" (a designated way to spend or save it) so you don't just blow your money because you see it sitting in your account. If you want to order pizza for dinner rather than cooking, plan the amount you will spend beforehand. If your son needs new shoes, set aside a specific amount to spend from this paycheck and stick to that amount.
Directing each dollar from your pay to a specific purpose will bring you peace and enable you to take control of your finances.
How are you doing with the challenges this week? Leave a comment. 🙂
[Click here for Day 5 of Budget Breakthrough!]
You May Also Enjoy: