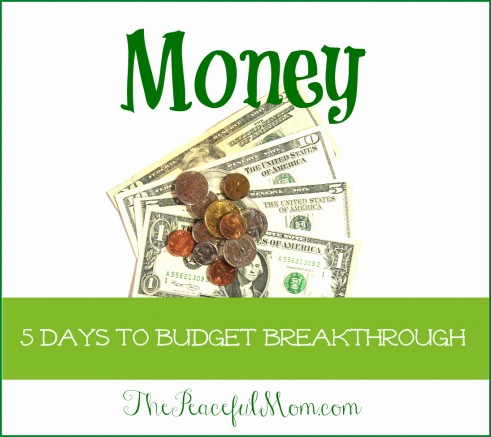 Money: 5 Days to Budget Breakthrough
Need to get your money back on track? Each day this week I'm sharing one step you can take to start gaining control of your finances. Follow along, take the action steps and find your budget breakthrough! [Click here to read all the Budget Breakthrough posts.]
Day 3: Open a second account.
Today's challenge is to open a second checking account to help you manage your money. (Really, open one. Don't just think about it.)
You can read more here, but basically you will use this account to put money aside from each paycheck to pay upcoming bills and irregular expenses. Tranferring the money to a separate account keeps you from thinking that the money in your primary account is available for miscellaneous spending (like that cute leather purse you just saw on sale or taking the family out to dinner because you don't want to cook 🙂 ).
Try to find a free checking account, or even better, an account that pays interest. You need to be able to transfer money between the accounts and if your second account is at a different bank than your main account a transfer usually takes 2-3 days. If you have a day of the week when you look at upcoming bills for the next week this should leave you plenty of time to transfer the money you need for the next week.
If you are not very organized in taking care of your finances you will probably want a second account at the same bank so that you can transfer the money quickly if you need it. You just have to be disciplined not to transfer any money from this second account unless you are paying for a bill or an item in one of your savings categories.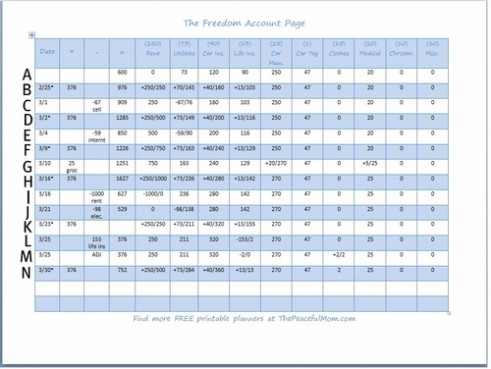 Once you open the second account, you will need a way to track your money. You can use a service like Mint.com, but I like to use this Freedom Account Spreadsheet. You can use the version with pre-printed categories or print the blank one and write in your own categories.
Whatever method you choose to use, the key is to keep track of how much money you have in each category and to determine that you will only use the money in the second account for the intended expenditures (monthly bills and savings for future irregular expenses). The spreadsheet enables you to see the balance in each category rather than simply seeing your overall account balance which reminds you that this money is for designated purposes and is not available for spending.
If you decide that this method is not for you, your challenge today is to find a way to manage your money that makes sense to you and one that you will continue with. You can read the comments on this post to get some ideas of how others manage their money.
If you are taking the challenge today, leave a comment–the more, the merrier! 🙂
If you are just joining us, click to read previous posts:
[Click here for day 4 of Budget Breakthrough!]
You May Also Enjoy: