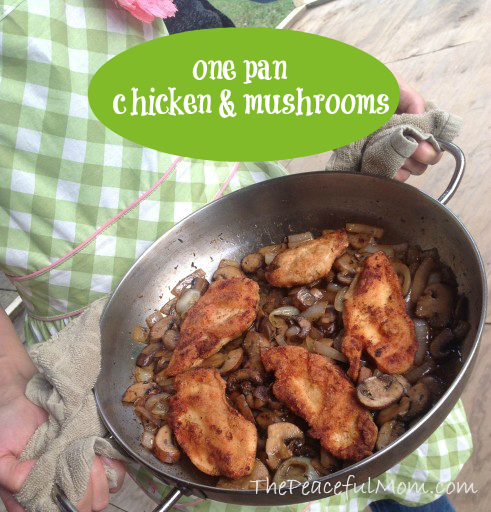 30 Minute Meal: One Pan Chicken and Mushrooms  
Need a quick and easy dinner idea? Try this yummy Chicken and Mushroom Recipe to get dinner on the table in a flash! Serve it with buttered noodles on the side (or rice for gluten free family members) and steamed green beans, then WOW– Look who's got dinner on the table in 30 minutes! 🙂 
One Pan Chicken and Mushrooms
A 30 minute meal from The Peaceful Mom!
Ingredients
1/4 cup all-purpose flour or gluten free substitute
Salt (I used sea salt and an organic herb blend called Trocomare)
2 packages of chicken thinly sliced (cutlets) about 1 1/2 lbs.
2 tablespoons olive oil
4 tablespoons butter divided
2 tablespoons dried or fresh thyme leaves, chopped.
2- 8 ounce packages of mushrooms
1 1/2 - 2 1/2 cups onions or any other vegetable you may have.
1/3 cup white wine
1/3 cup chicken broth
Instructions
Begin by shaking together the flour, and salt in a dish.
Dredge the chicken pieces in the flour mixture, covering them completely.
Heat the olive oil and butter together in a large flat pan.
Sear the coated chicken pieces till golden brown on both sides, but not too crispy.
Remove chicken from the pan.
Using the same pan, reduce the heat and add the remaining butter, mushrooms, onions (or other veggies), and thyme.
Cook until soft, about 5 to 6 minutes or until onions are just translucent and mushrooms are still slightly firm.
Add the wine and broth to the mushrooms and onions and de-glaze the pan. (Stir the sauce scraping up all the flavorful stuck-on bits.)
Cook down the liquid for 3 to 4 minutes.
Return the chicken pieces to the pan, heat briefly and serve!
https://thepeacefulmom.com/2012/10/24/30-minute-meal-one-pan-chicken-and-mushrooms/
I'm linking up at Tasty Tuesday and Gluten Free Wednesday!
I'm also linking up to Allergy Free Wednesdays!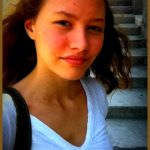 Posted by Kendra