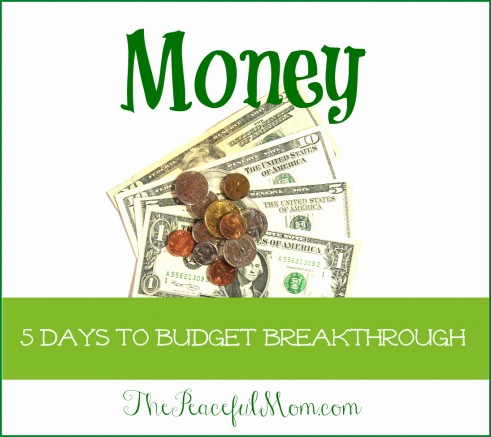 Money: 5 Days to Budget Breakthrough
Need to get your money back on track? Each day this week I'm sharing one step you can take to start gaining control of your finances. Follow along, take the action steps and find your budget breakthrough! [Read Day 1 here.]

Day 2: Change Your Money Mindset
Now that you have looked at your overall monthly income categories and have started recording your spending, it's time for something less math related.
Today's challenge is to start thinking differently about money.
Take a few minutes and think about how you view money in your life. Do you think that money is primarily for spending? Do have a love/hate relationship with keeping track of your spending? Do you constantly feel that there is never enough?
What if you began to view money as a tool that you can use wisely to produce good things in your life? What if you could rise above the mentality of "just getting by" by deciding that you will manage your money rather than letting your money control you, or letting it slip through your hands and disappear?
When we were struggling the most financially, our life was stressful and it seemed like there was never enough. Small amounts of money seemed insignificant because they would not fix our "huge" financial problem. Our thinking went something like this, "We're not going to have enough money anyway, so who cares if we spend this $4.00 on drinks at the gas station?".
Eventually we realized that we were making excuses rather than taking responsibility for our situation. We had to stop spending without thinking about it. When we looked at the overall picture we realized that we didn't have the luxury of spending even $4.00 frivolously–every little bit counted. If we wanted to buy soda, we needed to make a conscious decision and realize that the money spent for sodas meant taking money from some other area of the budget.
To fulfill today's challenge, take a few minutes and think about why you want to change the way you spend money. Realize that YOU are the only one who can change your financial situation, believe that you can manage your money better and acknowledge that even small steps in the right direction can make a difference. Choose TODAY to make your money work for you so that you can accomplish your dreams.
If you'd like, leave a comment about one change you would like to make. 🙂
[Click here for day 3 of Budget Breakthrough! Click here to read all the Budget Breakthrough posts.]
You May Also Enjoy: