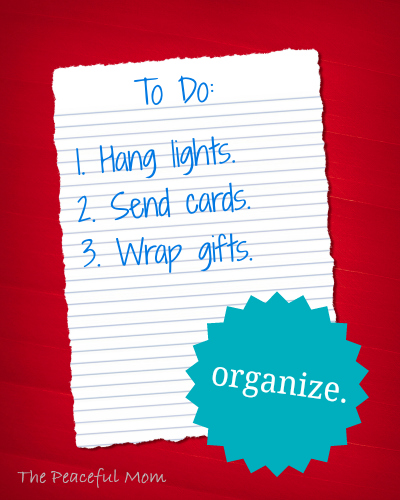 Stress Free Holidays-Your step-by-step plan to enjoy more and stress less this holiday season!
Click here to read all the posts in this series.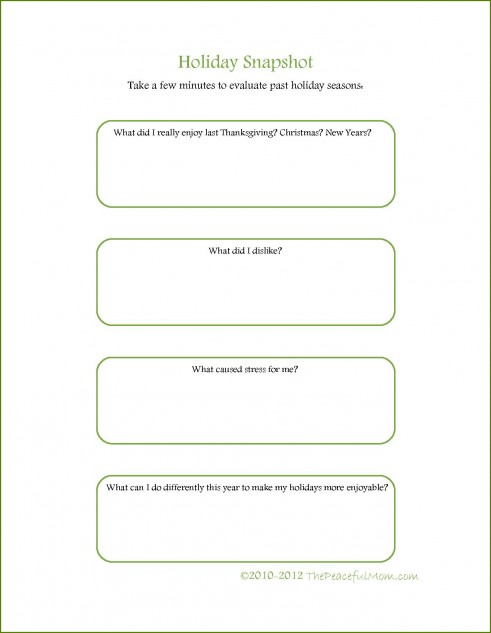 Now that you have completed the first two sections of the Holiday Snapshot Planner, it's time to decide your priorities and any action steps you need to take to make this year more peaceful and enjoyable for you and your family. 
Decide Your Priorities
In the margin of the Holiday Snapshot, write your priorities for this holiday season. Here are some examples to get you started:
This Holiday Season I want to …

maintain my peace.

enjoy quiet family time together.

stick to our budget.

serve others.

entertain friends.
Action Steps
Now is the time to decide what REALLY has to be done during the next two months. Can you re-schedule any appointments or obligations? Are there things that can wait until the New Year?
What obligations do you need to eliminate from your schedule? What traditions do you have that are no longer working for your family?
What conversations do you need to have now? How can you set limits that will work for your family?
Write the action steps that you need to take in the bottom portion of the Holiday Snapshot Planner.
Possible Action Steps:

Look at our finances and determine a budget for gifts.

Talk to Aunt Beatrice about visiting Thanksgiving instead of Christmas this year.

Find out what the kids really enjoy during the holidays.

Talk to family members about having a "potluck" instead of me doing all the cooking.
Making a plan now will enable you to face the holiday season as peacefully and stress free as possible.
What is one step that you can take this week to get started? Leave a comment. 🙂
Read all the Stress Free Holiday Posts here!  
You May Also Enjoy: