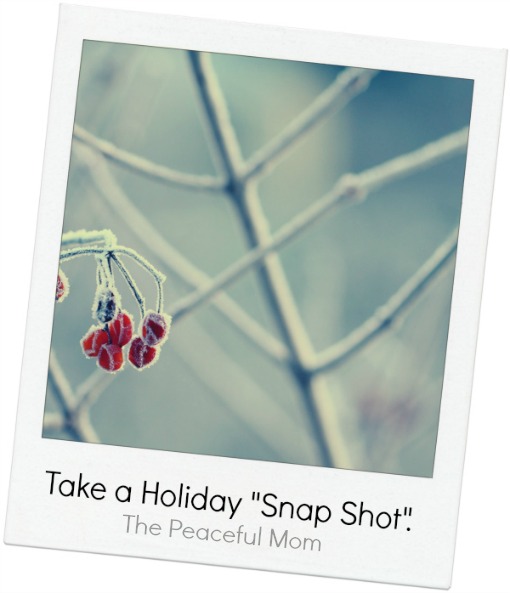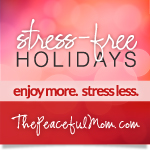 Stress Free Holidays-Your step-by-step plan to enjoy more and stress less this holiday season!
Click here to read all the posts in this series.
 
Now that you have addressed your expectations of this holiday season and let go of your ideal of perfection (read more here), the next step to a stress free holiday is to evaluate past years and decide what you enjoyed most.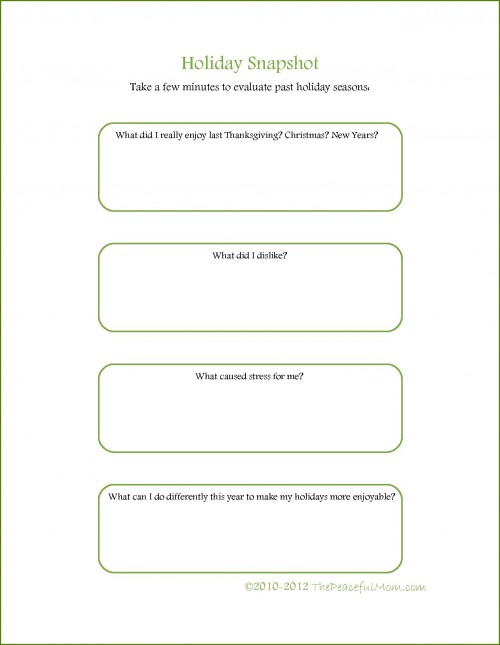 Click to print this Holiday Snapshot Planner.
Today's task is to print the Holiday Snapshot and take a few minutes to write your thoughts in the first section. What activities and people brought joy to your life during past holiday seasons? What experiences created happy feelings for you and your family? You may also want to interview other immediate family members to find out what they enjoyed in previous years. Check out these ideas to get started: 
Enjoyable Holiday Activities

cooking meals/eating together

shopping for gifts alone or with friends

donating gifts to needy children

making gifts/crafts

baking cookies/bread

traveling to visit family

planning, hosting or attending parties

decorating

sending Christmas cards

doing Advent or Christmas-themed activities

reading the Bible or other books with your family

attending local holiday activities (craft bazaars, light displays, etc.)
One of my favorite parts of the Christmas season is drinking hot chocolate and watching Christmas movies like Dr. Seuss' How The Grinch Stole Christmas, The Santa Clause
, Elf, and It's a Wonderful Life with my family. Spending quiet time together away from all of the hustle and bustle bonds us as a family and is something we look forward to every year.
Focusing on what you truly enjoy can help you create the kind of holiday season that is filled with happy memories rather than sadness, stress and regret.
Read all the Stress Free Holiday Posts here. 
You May Also Enjoy: