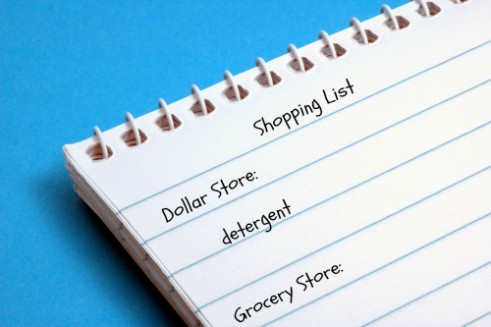 Simplify Your Shopping Trips is a guest post by Nikki and is sponsored by Dollar Tree.
If you're like me, your trips to the grocery store can get a little hectic. Coupons are a great way to save money, but without a good system to store them and a good list to guide you, the process can easily become hectic and take a lot more time than it needs to. These tips will help you simplify and streamline your shopping. With a bit of luck, you might even enjoy your trips! 
Decide Your Timeline
When do you need to go shopping? Until you answer this question, you can't move on to the other parts of zen shopping. I recommend working out a rotating schedule depending on what you need.
For example, I shop for fresh foods on a weekly basis; dry goods, bi-weekly; toiletries, non-food items, office supplies and other more periodic essentials are monthly. Items like paper towels, toilet paper, and other things that I buy in bulk are a once-a-quarter trip. Breaking it down like this first really helps you get a handle on everything.
Make Your List
Your weekly fresh foods list will almost certainly change from week to week, but in your bi-weekly, monthly, and quarterly lists, you'll find that patterns will emerge. Keep a consistent list to reduce your planning time. Using one consistent list, you're much less likely to forget something. If you need to get ready for a special event – buying party supplies, school supplies, or anything else for a special occasion – you can just jot that down on a special list.
Organize It By Store
If possible, go somewhere that has good coupons, good sales, and enough of a selection that you don't have to go elsewhere. The more time you spend driving, the more time you have to spend overall! Organizing by store makes sure that you know exactly where you need to end up and lets you chart the most efficient driving course. Over time, you'll learn where in the store everything is as well, saving you even more time. (Print this Multiple Store Shopping List.)
Avoid Distractions
I strongly recommend shopping while your kids are otherwise occupied. I don't have a lot of time away from them, but I like to spend that time shopping because it helps keep me from getting distracted. Your kids will try to add things that aren't on the list, and managing them along with the shopping bags takes a lot of effort.You'll move a lot faster if you can leave them with a friend or family member.
Hopefully these tips will help you cut down on the time you spend shopping which will give you more time to spend with your kids, save you money, and lead to better efficiency around the house.
_________________
Nikki is an independent writer for www.dollartree.com. Dollar Tree offers great deals on office supplies, party supplies and more.