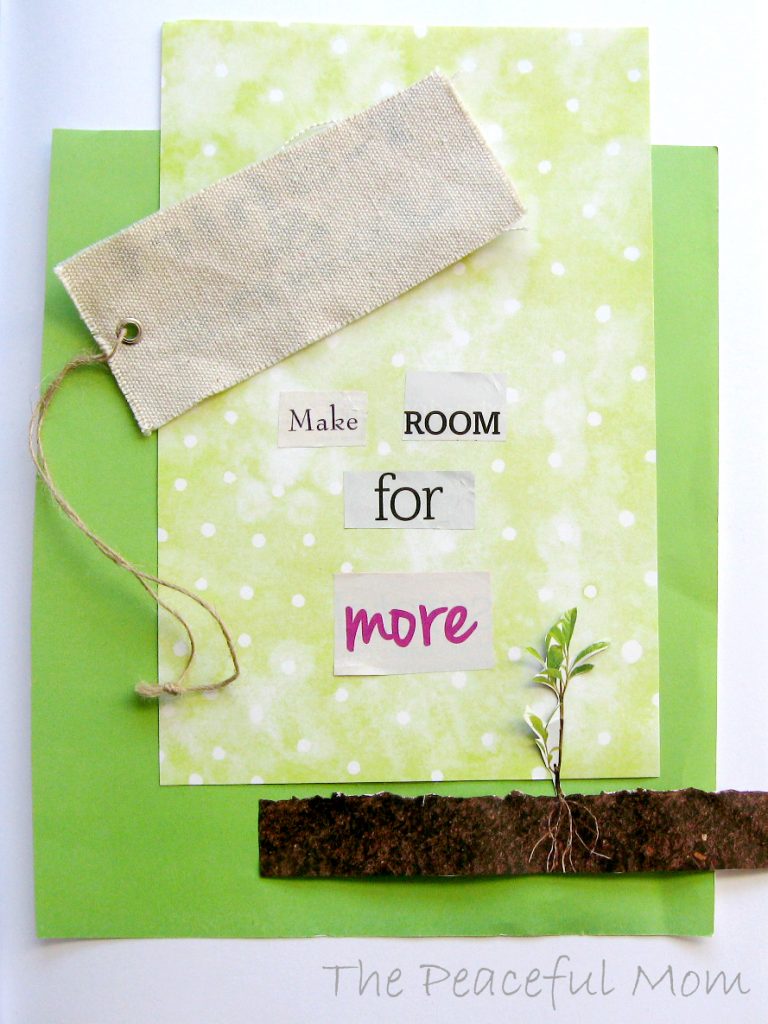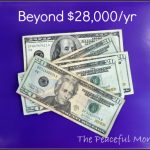 Welcome to the Beyond $28,000 A Year series–the story of how our family is learning to live a "MORE" life. Click here to read more posts in this series.
Read the original $28,000 series here.
So far in this series I have talked about Finding Passion, Desiring More, Finding Inspiration, and Defining More. Each of these steps in my journey has enabled me to expand my thinking to do more, be more and live more , but I realized quickly that if I want "more", I have to make room for it by getting my life in order. 
Connecting
In order to make room for more of what God has for me I have to make time to connect with Him and to my own creativity. As I mentioned in my previous post, I primarily make this connection by doing a morning Brain Dump, art journaling, praying throughout the day and reading the Bible.
As I make a conscious effort to tap into my spirituality and creativity, I grow closer to God and closer to who He created me to be.
Planning
It is so easy to just let life happen and to get busy doing the things that are urgently pulling at us. I have found that I have to be diligent to plan so that my life isn't hijacked by things that seem important but don't really help me to accomplish my goals.
I have to plan exercise time. I have to plan date time with my husband and individual time with each of my children. I have to plan to work on my business. Planning enables me to live life intentionally, not accidentally.
To focus on what is truly important, I make a Weekly Plan which I divide into five categories: Personal, People, Purpose, Passion and Projects. You can view my Weekly Plans here.
Prioritizing
Planning is important, but I also have to prioritize. I can quickly fill my schedule with "good" activities, but in the process I can easily miss the most important tasks.
One of the most important areas for me to prioritize is sleep. When I am tired I am grumpy, unable to make decisions and more likely to participate in self-destructive behaviors like overeating.
As you may have read in my post 3 Ways to Make Goals Work for You, I have chosen to go to bed later in the past few weeks in order to be more available for my husband and teenagers. I am a morning person and do my best work in the first hours of the day, so I have continued to get up early even though I needed more sleep.
The end result is that I am usually tired in the middle of the day and end up taking a nap a few days a week. I am trying to plan better so that I am available on a few nights when I can sleep later the next day and then go to bed earlier the rest of the week.
Sleep has to be a priority if I want to accomplish more in my life. I can only "burn the candle at both ends" for a short time without seeing serious consequences in my life.
Limiting
Life is always a balancing act, and when I add something to my life, I have to eliminate something else.
One area that I have severely limited is television viewing. There is nothing inherently wrong with watching television, but it can be a huge time waster.
I have found that I have more hours in my day to pursue my goals and dreams when I avoid watching television altogether. It is very easy to get into a pattern of watching a favorite show and then sitting in front of the tube for hours rather than accomplishing something or going to bed in order to get enough sleep.
So what about you? What can you "tighten up" in your own life in order to be more, do more and live more?
Leave a comment. 🙂
You May Also Enjoy: