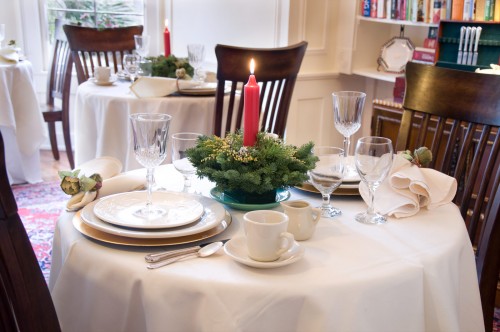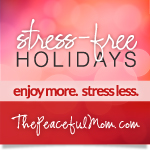 Stress Free Holidays-Your step-by-step plan to enjoy more and stress less this holiday season!
Click here to read all the posts in this series.
 
The table is beautifully set with shining china and gorgeous food. A fire glows in the fireplace as music plays softly in the background and happy family members gather talking and laughing.
Is this your vision of the holiday season?  
The first step to enjoying a stress free holiday is to address your expectation of the "perfect" holiday. Television, magazines, websites and even our own imaginations promote images of quaint family gatherings without any conflict or strife. We see perfectly fit and fashionably dressed women in beautifully appointed homes, serving gourmet dinners to thankful and well-behaved children–and all with complete ease.
It's not enough that we have to face the regular demands of family, friends, church and work. We also have to cope with this pervasive idealization of life. Even though we know in our heads that we can't do everything "perfectly" (or just do everything!), deep down we compare ourselves these airbrushed images and judge our own life based on impossible standards. We feel like failures, so we try harder and then find that we still come up short.
We want everyone in our life to be happy, and especially during the holidays. We want to serve gorgeous meals, buy just the right gifts and participate in all the right activities. We believe that if we can just get more organized or be more disciplined, then we can accomplish the impossible, "be better" and have the "perfect" holiday.
Sure most people can use a little more discipline and structure in their lives, but organization cannot turn you into a superhero. There are still only 24 hours in a day and 7 days in a week, and contrary to popular opinion, we do eventually have to sleep!
May I suggest that you take a few minutes during the next couple of days to think about what your expectations are and why you have them? If you are the kind of woman who is still trying to "do it all", maybe it's time to tame your inner superwoman and gain some balance in your life. What if you let go of everyone else's expectations and do what feels right to you?
Give yourself permission to have an imperfect Thanksgiving, Hannukah, Christmas, New Year. Give yourself permission to say "no" and to take some time to rest instead of participating in every available activity. Accept the fact that someone will be disappointed by you, and that you are okay with that. Invite peace into your life by letting go of your ideal of perfectionism and focus on enjoying this holiday.
…and limit your time on Pinterest. 🙂
Read all the Stress Free Holiday Posts here.