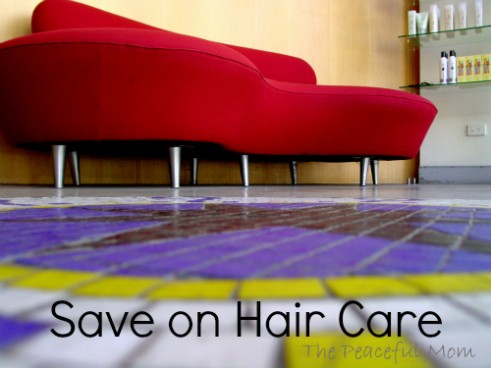 How To Save On Hair Care
Unless you are fortunate enough to have an easy-care style like my handsome husband (who is bald :)), hair care can be a significant area of your budget. You want to look good, but if you are in a lot of debt or have a tight budget, it just doesn't make sense to spend $200 a month on your hair.
I personally have very high-maintenance hair: it's curly (which makes it difficult to cut) and it turns red in about half a second (which makes it difficult to color). I have tried cheaper DIY alternatives, but they have never worked out for me (especially the time I put "Sun-In" on my hair the week before my wedding-ha!)
My solution to avoid complete hair disaster has been to find a stylist at a chain salon who came highly recommended, does a good job, but doesn't charge me an arm and a leg. To save more, I wait longer between appointments and use the email coupons that the chain offers. To make more room in the budget, I save my birthday money and any miscellaneous money we have left over.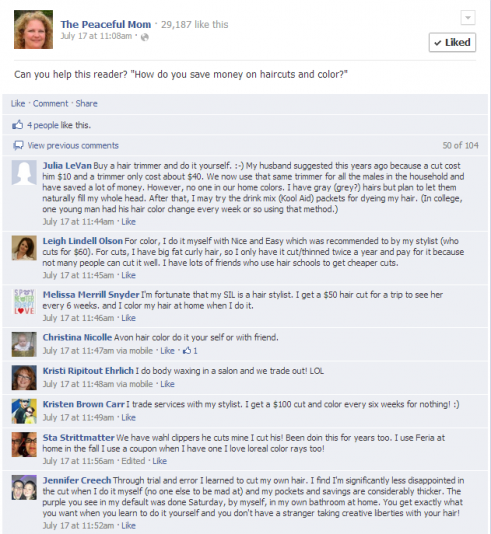 A few months ago I asked my readers on Facebook how to save on hair care and received some terrific responses. My readers chimed in with everything from Kool Aid hair dye to marrying a man who's mom is a cosmetologist–haha!
Here are a couple of the more traditional  ideas: 
"Buy a hair trimmer and do it yourself. My husband suggested this years ago because a cut cost him $10 and a trimmer only cost about $40. We now use that same trimmer for all the males in the household and have saved a lot of money."–Julie
"I trade services with my stylist. I get a $100 cut and color every six weeks for nothing!"–Kristen
"Get a demi-colour. Fades rather than grows out. And use a good hydrating shampoo so your ends don't go nuts."–Krystle
"A beauty school usually offers cuts and colors for less than a stylist charges and the student is supervised and their work checked before you leave."–Jessica
"Keeping it longer with a simple cut. Can go 3-6 months in between haircuts."–Melissa
You can read all of the helpful ideas here.
How do you save on hair care for your family? Leave a comment. 🙂
You May Also Enjoy: