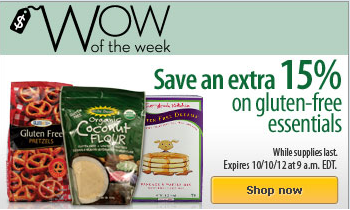 Vitacost.com has gluten free products 15% off again through 10/10 which means it's a great time to use your FREE $10 Credit! Sale items include Glutino Pretzels (our favorite and perfect to make chocolate covered pretzels for the holidays!), Bob's Red Mill Sorghum Flour and Pamela's Ginger Snapz plus lots more.
CLICK HERE to get your FREE $10 credit when you sign up for the Vitacost Rewards program!
CLICK HERE to go straight to the Gluten Free goodies on sale.
*Remember to add 2 FREE samples to your cart (included with every order)! (Please Note: This post contains affiliate links.)