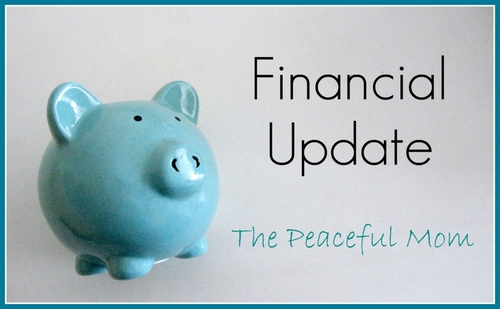 In conjunction with the Living on Less Than $28,000 A Year series, I started sharing periodic Financial Updates about our family's finances. I don't always give specific numbers, but I thought it might be helpful for those of you in a similar situation to take a peek at how things go at our house.
September was full of surprises for our family. After nine long months of waiting we were finally able to pay for a "new to us" van (read more here). We have been saving and looking for a good deal for so long that it seemed surreal to actually get the vehicle.
We were also able to get a super discount on tickets to a local amusement park. It was a splurge, but I couldn't resist the opportunity to take my three girls to the park for $45 total!
As for my goal to put money aside in the Emergency Fund, it didn't happen. In addition to the amusement park splurge, we overspent in the household/toiletry category by $56, the clothing category by $12, groceries by $24 and the miscellaneous category by $50. These may seem like trivial amounts, but because our income is lower, these are actually quite significant. If I had kept to the budget we would have had $187 to add to savings.
In addition to our Emergency Fund being low, the funds in our Freedom Account (read more here) are low as well. We had another car repair which cost $167. Thankfully the money was in the car repair category of the Freedom Account, but that only left us with $30 for future repairs.
The good news is that we had money to pay for everything that we needed and we continue to be debt free. The bad news is that overspending prevented us from saving money, which we need to do.
So my goal for October is to fund the categories in our Freedom Account with the regular weekly amount (for example: $20/week into the car insurance category, etc.) and to add at least $100 to the Emergency Fund. Hopefully by making our financial goals specific, I will do a better job of actually accomplishing them. 🙂
How did you do last month? Were you able to stick to your budget? Leave a comment so we can encourage each other.