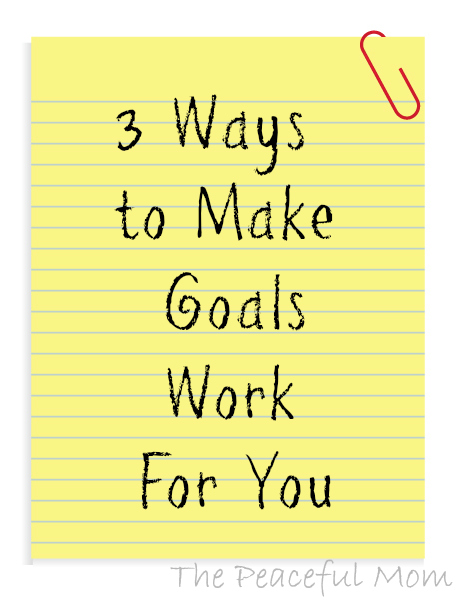 If you've been reading my Weekly Plan posts, then you know that I've been making a concerted effort to list weekly goals to help me live more intentionally.
One of my goals has been going to bed by 10 pm each night. Sounds great, but I've been struggling to make it happen, and feeling guilty about it. I gave it one more try this week and I realized something very important:
I don't want to go to bed at 10:00.
I originally set the goal because I saw it on someone else's goal list and it sounded like a good idea. Everybody can use more sleep, right?
The only problem is that going to bed early isn't really working for my current season of life.
My husband's schedule recently changed and he arrives home after 9 pm three evenings a week. If we want to spend time together talking or watching a movie, I need to go to bed later. When I tried to go to bed by 10 pm, I missed that time with my husband and I felt guilty, disconnected and unhappy.
My teenagers also seem to come alive around 9 pm and often want to talk. I can ignore them, but some of our best conversations happen at night. When my children are relaxed they're more likely to talk about things that are really important to them, or issues that are bothering them.
While everyone else in my family is a night owl, I'm naturally a morning person. I like going to bed earlier so that I can get up really early and get lots accomplished before everyone else wakes up.
As I considered all of these factors I realized that "accomplishing more" seems like a worthy goal, but I had to ask what I'm trying to accomplish. What's more important–the relationship with my husband or writing an amazing blog post? Listening to my daughter or having all the laundry done? I firmly believe that relationships are more important, so I need to live that way.
Working through this process taught me a few key lessons about how to make goals work better.
Set goals based on YOUR priorities.
Just because someone else has a goal doesn't mean that you or I need to adopt it. You need to know your own priorities and values, and live your life based on those, not try to fit into someone else's expectations of what you should do.
Make goals work with YOUR lifestyle.
Goal setting should always stretch your current boundaries and move you beyond your comfort zone, but if your goals and plans don't fit into your overall lifestyle you'll find it very difficult to accomplish them. You have to work within the realities of your schedule, responsibilities and natural tendencies, not set goals that conflict with them.
Evaluate and adjust when necessary.
To be effective, goals should be evaluated on a regular basis. You need to determine if you're accomplishing what you want to accomplish, and if not, discover the source of the problem.
Do you have a scheduling problem? (For example, trying to accomplish something early in the morning when you do your best work in the evening).

Does the goal conflict with other priorities in your life? (For example, does the goal prevent you from spending time with family, etc.)

Are you not truly committed to the goal for some reason? (For example, the goal is something someone else wants for you, etc.)
Once I examine the reasons for failing to reach my goal, I can determine if I need to keep the goal, but adjust other aspects of my life, or if I need to modify the goal.
What about you? Do you have some goals that aren't working with your current season of life?
How can you adjust them to fit better? Leave a comment. 🙂
Cheering You On!