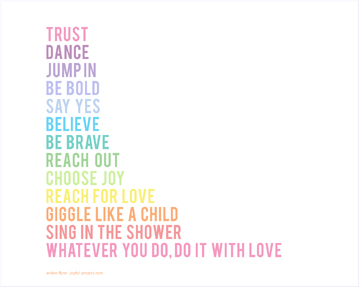 13 Ways to Reach for Joy is a guest post from contributing writer Andee Flynn.
The days can seem overwhelming. The nights can feel exhausting. In the midst of motherhood, we can feel like we are being pulled so much, that we forget. Today I'd like to invite you to remember.
Remember to:
Trust. Trust in the beauty of a new day. The sun comes up and you can start again.
Dance. Watch how little children dance when they are happy, just because. Give yourself permission to join them.
Jump in. Standing on the sidelines isn't always fun. Even if you think it's not your specialty, do it anyway, and jump in.
Be bold. Give yourself permission to stand up, to stand out, to try.
Say yes. Instead of saying no, say yes. Just for today, say yes to something new and see what happens. Even if it's just a small thing, go for it and say yes.
Believe in yourself. Believe in a greater force for good that desires your best today.
Be brave. Sometimes reaching out to a new friend means we have to be brave. Sometimes making a hard phone call means we need courage. Whatever it is today that is beckoning you, go for it-and be brave.
Reach out. Going it alone is not what we are here for, there's someone you know who can help. Reach out.
Choose joy. Everyday we have the opportunity to make a decision. Today I invite you to choose joy. Take it in 15 minute increments, and choose joy for 15 minutes at a time and see what happens.
Reach for love. It's so easy to get down on ourselves, to get down on others, to complain, to turn to the fight. Today I invite you to choose love.
Giggle like a child. You know how cute it is when the little ones just get lost in a fit of laughter. They giggle and curl themselves up from laughing so hard. They aren't taking themselves seriously. Let it go and laugh.
Sing in the shower. Use the shampoo as a mic and sing a song like you're Beyoncé–just because.
Whatever you do, do it with love. We have the choice every day to be motivated by something. We can allow emotions like fear, anger, doubt and insecurity be the reason we do what we do. We wear these emotions, and they can weigh us down. Today, I encourage you to step out of the heavy cloak. Do your day with love. One little choice at a time, do it from love.
Click here to download the FREE Reach for Joy printable!
_____________________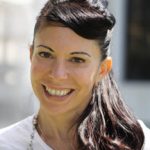 Andee Flynn is an author, speaker, personal coach, and blogger. She makes it her goal to seek joy wherever she goes. Read more from Andee at Joyful Project. Follow Andee on facebook and twitter.