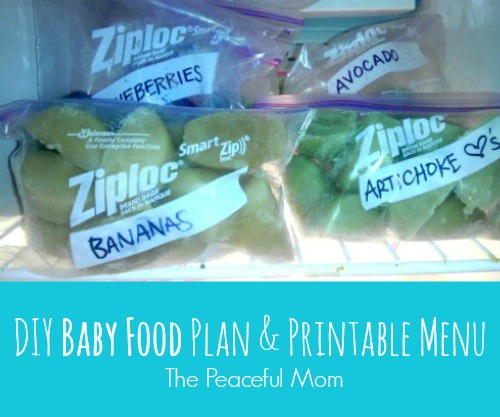 My DIY Baby Food Plan is a guest post from Christy.
___________________
In our house we've always loved good food. We knew when we decided to start a family that we wanted our children to enjoy good food too. As a working mother, I also knew that finding time to prepare the homemade baby food that I wanted to feed my child would be a challenge.
So I put on my professional organizer hat and developed a system to make the most of what little extra time I had to prepare his food each week.  Here are the steps in my homemade baby food making plan: 
1. Choose foods that need to be prepared different ways.  For instance, I would pick a non-cook food (bananas, avocados, frozen berries, very ripe pears), 2-3 items to steam (broccoli, green beans, asparagus, carrots, apples, pears, spinach, kale, leeks), and an item to bake (sweet potatoes, squash, potatoes).

2. Start with the baked item. Place the bake item in the oven since it takes the longest to cook and start the pot of water with the steam basket to steam the first item.

3. Chop and puree the non-cook item. Once non-cook item is pureed and stored in ice cube trays, the first steam item is usually ready.

4. Puree the first steamed item. Remove the first steamed item and add the second item to the steamer. Puree and store the first steamed item.

5. Puree and store the second steamed item. Repeat the steaming step if you would like to do a third item.

6. Check the baked item. If it is finished, pull it out of the oven and let it cool.

7. Cook grains. If you are going to make a grain (oatmeal, rice, quinoa, millet), use some of the steaming water to prepare your grain at this time while the baking item is cooling.  (Be careful not to burn yourself when moving/pouring hot water.).

8. Prepare baked item. Once the baked item has cooled to the touch, chop, puree and the store baked item.

9. Finish grain. Depending on if and what grain you choose, it should be ready in around 20 minutes or less. Start cleaning up if the grain isn't quite ready once you've finished your purees. Once the grain is finished, let it cool a bit then divide and store it in ice cube trays.
By following this plan, I was able to prepare enough food for my little guy for the week in around one hour. Each week I would choose different fruits and veggies based on his age, so I always had a good variety on hand. As a bonus, we discovered that our consumption of fruits and vegetables went up because of the influx of good food into our home.
You can print a FREE copy of my Organized Mama Baby Food Menu Planner here!
What tips to you have for feeding babies and kids healthy food on a budget? Share in the comments. 🙂
__________________________
Christy Lingo is a new mom and Professional Organizer in Columbus, Ohio. When she's not organizing, she's an organic-gardening, bread-baking, world-traveling, exercise enthusiast with a passion for Shakespeare and power tools. You can find her Professional Organizing blog at www.simplesolutionsdesign.com or her blog about family specific organizing at www.organized-mama.blogspot.com. 
You May Also Enjoy: