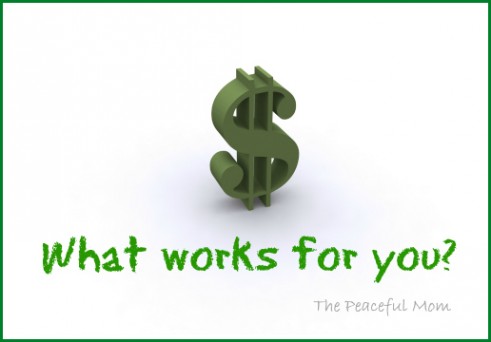 Money: What Works for You? Money management is very personal, but I think it can be helpful to read about how others make their money work for them, so that you can find what works best for you! Today Ivy shares with us how she handles her finances.
__________________________
How I Manage My Money is a guest post from Ivy. 
How do I manage money? I just had to write a guest post on this topic as it has been my quest to live below my means for the last 8 years.
I grew up in a home where my parents were not very good with money. My father would get his paycheck, stick it in the bank, and buy whatever he wanted. My mother was convinced that she was frugal because she only bought items that were on sale or from outlets but was constantly shopping. Needless to say, I didn't learn very good habits. 
In 2005, with collection agencies calling daily, I had to deal with my financial issues. I read everything I could get my hands on about personal finance. My favorite guru is Dave Ramsey. To say he saved my life is an understatement. Despite that, obtaining financial peace has been a two step forward, one step back process.
Currently, this is what I do:

* I get paid once a month.

* I make a monthly budget on a spreadsheet spending every dollar of my paycheck which can fluctuate month to month.

* As soon as I get paid, I immediately pay all my bills, most of which I pay online, 2 require checks.

* I take out cash to pay all my groceries, gas, hair care, and what I call my "blow fund."
I used to have a monthly budget for all those categories, but I realized that I was spending everything in the first two weeks and poverty stricken the last two. Now I do a weekly budget and put that on spreadsheets below the monthly spreadsheet.
I live fairly simply, but it is still difficult. I have also learned that certain things do not work for me like using credit cards and cell phones. I have one card in my wallet, but it is only in case I am stranded at the side of the road.
Not many people understand or relate to how I spend money. I do things like:
* Go to 1/2 price days at thrift shops for clothes.
* Use a pay-as-you-go phone for which I pay less than 10 dollars a month.
* I have basic, basic cable for which I pay 11 dollars a month.
* Buy my food at discount food stores.
* Do as much as I can with my kids from home like baking, game playing, watching movies, and crafts.
Eight years ago, I had mounting debts, no emergency fund and gave nothing to retirement. Now I have no debts except my car, $2,000 in an emergency fund and I give 7 percent of my salary to retirement, which is matched by my employer's 8 percent.
At forty-eight, I am not exactly in perfect financial condition, but I am on the path to financial success and I am in a position to teach my two children good financial habits. I am continually learning new and better habits and my new goals are:
* To get my emergency fund up to 5,000 by the end of the school year.

* To give 2 percent by the end of this year to my Roth IRA.
Hopefully this post was helpful and I wish everyone financial peace.
Do you have a money story? You could see it published on The Peaceful Mom!
Follow the guidelines here and you could see your story on The Peaceful Mom! (Please Note: Not all stories will be published.)
______________________________
Ivy Miller is a single mom of two living in Northeastern Pennsylvania. She is a teacher and a librarian at a private school. She considers living below her means to be one of the greatest gifts life can give and a choice everyone has the power to make. Besides financial management, she is interested in writing, creativity and communications.
You May Also Enjoy: