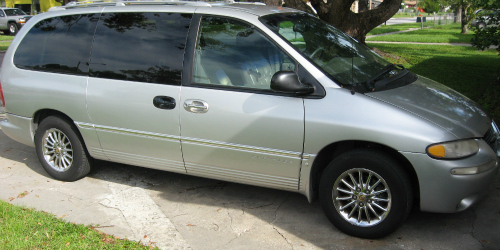 Sometimes living on a lower income presents some interesting situations. This past January our "beloved" minivan died, which resulted in a fun evening with my daughter (read more here), but a bit of a dilemma for our family. We had been saving, but did not have the money to replace the vehicle at that time and the one vehicle that remained was too small to fit everyone in our family.
We knew that we were absolutely committed to never going in to debt again, so we continued to save money and made life work with one "too small" car. A friend picked up my son on Sundays so we could all go to church; my husband took the bus to work on the days that we needed the car (sometimes leaving as early as 3:30 in the morning!); and we rented a van for one family outing. (Authorities frown on parents who drive with children in the trunk of their vehicle. 😉 )
Our situation was inconvenient, but we were content because we knew that we were doing everything in our power and we were trusting God to provide for us. As time progressed, though, we began to wonder if we were doing the right thing because let's face it, nine months is a long time to be without transportation to fit all the members of our family in one trip! As we prayed, we felt assured that going to the car dealership and signing up for a car loan was NOT an option and that we would eventually find a vehicle to meet our needs that also fit in our budget.
This past week, we were finally able to get a "new to us" van and for almost $2000 less than book value! The really cool thing is that we bought it from some friends with whom we had lost contact. Buying the van not only helped us, it reconnected our friendship!
God is always good and always on time, even when we think we have gone a little too long without seeing Him move on our behalf. I love that!
You May Also Enjoy: