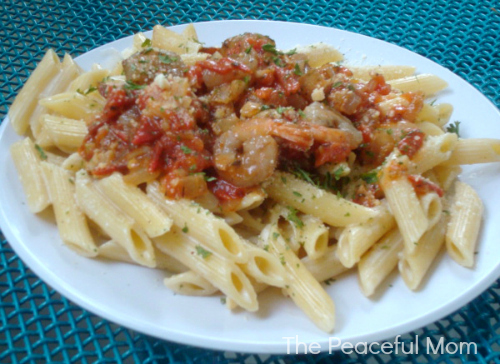 Shrimp Pasta Parmesan (Ruby Tuesday Copy Cat Recipe) is a guest post from JC.
_________________________________________
I think every now and then we all get a craving for "fancy" restaurant style meals. Thick decadent sauces and tantalizing layers of flavor that dance through our heads can make our typical home meals seem dull and boring.
So many people truly believe that they cannot cook like a restaurant chef, but I'm going to let you in on a little secret: menus in most chain restaurants are created to be cheap and quick in order to get the most profit possible. What does this mean? Many of the recipes from your favorite places are easier than you think!
Here is a copycat recipe that I developed for Ruby Tuesday's Shrimp Pasta Parmesan.
Ruby Tuesday's Shrimp Pasta Parmesan
An easy copycat recipe from The Peaceful Mom!
Ingredients
15 medium shrimp (frozen Precooked, thawed)
1 tablespoon olive oil
1 teaspoon dried oregano
1/2 teaspoon salt
1/2 teaspoon pepper
1 tablespoon + 3 tablespoons butter
1 tablespoon olive oil
1 large onion, finely chopped
1 tbsp. dried thyme
¼ tsp crushed red pepper flakes
2 cloves of garlic, minced
1 large tomato, deseeded and chopped
1/2 cup + 1 cup chicken or vegetable broth
1/2 cup shredded parmesan
2 tbsp all purpose flour
1 cup heavy whipping cream
¼ tsp ground nutmeg
1/2 package penne pasta
Instructions
Prepare pasta according to package instructions.
In a medium bowl combine 1 tbsp olive oil, oregano salt, & pepper.
Toss oil mixture with thawed shrimp, and heat in a medium skillet until warmed through.
Remove shrimp from skillet.
Melt 1 tablespoon of butter and olive oil in the skillet.
Add onion, red pepper flakes and thyme.
Cook until onion is clear and soft, roughly 5 minutes.
Add garlic and tomato and sauté for roughly 2 minutes.
Add 1/2 cup of broth.
Allow to simmer until liquid evaporates, approximately 3-5 minutes.
Transfer this mixture to the shrimp bowl and toss.
Again in the same pan melt the remaining 3 tablespoons of butter over medium heat.
Whisk in flour until blended.
Stir in cream, parmesan, remaining broth, and nutmeg.
Increase heat to high, and continue to stir.
Once sauce is simmering, reduce heat to low and continue to simmer until sauce thickens (about 10 minutes.
Add salt & pepper to taste.
Remove from heat and toss with cooked pasta.
Serve warm shrimp mixture over pasta and top with additional parmesan cheese.
https://thepeacefulmom.com/2012/09/19/shrimp-pasta-parmesan-ruby-tuesday-copy-cat-recipe/
The total cost for this recipe is roughly $4.80 per serving. Compared to the $10-$15 per serving meal at a restaurant, you would save roughly $5.20-$8.20 per serving by making this at home, so your savings for two would be $10.40-$16.40! The total preparation and cooking time for this meal is roughly 25-30 minutes, or about the same time it takes most people just to get to the restaurant. Save yourself the money, time, and gas– try cooking from home!
I'm linking up at Tasty Tuesdays!