Wow!  Click here to order 100 Customized Cards for just $5 Shipped from Vistaprint! Choose from thousands of different beautiful designs, upload your own photos, and personalize these cards however you like.

Moms can create business cards for 9 to 5 jobs or at-home businesses, or even create Mommy cards to hand out at play dates when you or your kids meet new friends!
You can also make "Save the Date" cards for an upcoming wedding or special event. Once you create your 100 customized cards, just head to checkout and the total cost will be just $5 including shipping!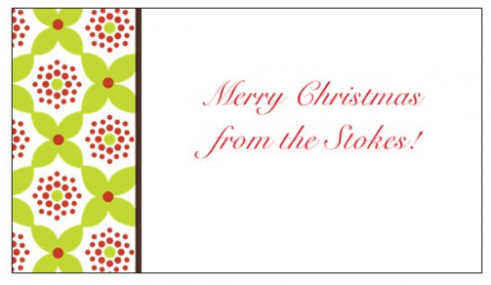 You can also make Christmas gift tags like the ones I just designed for our family.
You can add your family's photo to the front and print a Christmas message on the back, then simply hole punch the top left corner and add a ribbon. Presto! Instant personalized gift tags for family and friends!
Click here to check out all the options and order yours!
*affiliate link