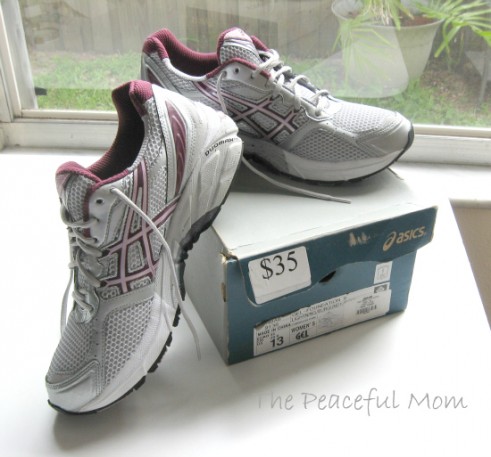 I am a reluctant runner.
I started running almost exactly two years ago and as my friend asked,"Why? Was a dog chasing you?".
Truth be told, my "running" is more like "slogging". I am only slightly faster than the little old ladies that I am moving past on the sidewalk, but I keep at it because it makes me feel better… and I would like to be able to move my legs when I get to be their age.
When I first began taking running seriously, I visited an expensive specialty running store who fitted me with a lovely pair of shoes that cost $130 PLUS $44 inserts because I am a "super-pronator". It's good to know that I am super at something.
Knowing the bank-account-draining potential of purchasing another pair of shoes, I have continued to put the purchase off. Last week, however, I realized that I was probably doing damage to my feet by continuing to run in the worn out shoes.
I prayed about it, as I like to do when I have a need, and felt that I should go to another specialty store that I would otherwise NEVER visit.
When I entered the store, I felt a slight bit of anxiety, but I pressed through and asked a salesperson for help. He explained that he would have to order a pair of shoes for me because they don't normally carry size 13 shoes for women. Yes, you read that correctly–I'm tall, okay?
As he was about to fill out the paperwork, I felt that I should ask him to look just to make sure he didn't have anything in stock. He went to the front of the store and picked up a box and then asked me to walk so he could check my gait.
He then proceeded to laugh out loud, which of course led to some self-consciousness on my part. When I asked him why he needed to publicly shame me, he responded,"Well, I'm laughing because these shoes are your size and they have exactly the right support so you won't need those expensive inserts."
I smiled, and then he handed me the box. "And they're $35. I think these shoes were just sitting here waiting for you."
I think they were too. I believe that God is good and He cares about shoes because He cares about me (and you too!)…and He definitely answers prayer, even when it seems inconsequential.
You May Also Enjoy: