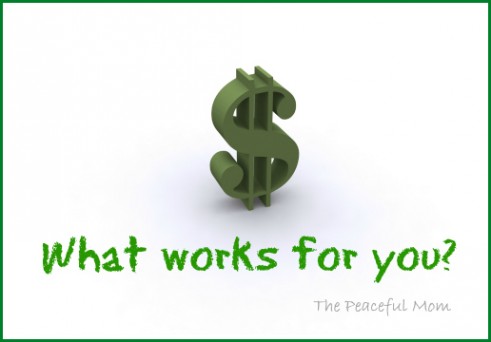 Money: What Works for You? Money management is very personal, but I think it can be helpful to read about how others make their money work for them, so that you can find what works best for you! Today Jenn shares with us how she handles her finances.
__________________________________________________
Not the Norm is a guest post from Jenn.

I started realizing I had a money problem when I graduated college with about 12k of debt, and for the record my parents paid for everything. I was living way beyond my means.
I am all for getting help from anyone who offers (within reason), so my parents have paid my car and credit cards off. I have a huge monthly payment to them, which I set, but I have the flexibility to pay whenever I want and not a set day. This helps a lot.
I tried the Dave Ramsey plan many times but never seemed to fully get into it. My unexpected son was born right after I graduated college and I had a life changing car crash right before that. I blame those 2 things for my "debt snowball to never start rolling" as Dave would put it. I do have my starter emergency fund in place since I always seem to break cars like it's my job.
While I have learned to manage my money throughout my post college years, I don't do it the way most people would.
I don't use cash.
I know all the studies that say using cash makes you use less. I don't have the time. I work 50-60 hours retail weekly and need to cut down on time whenever I can. And if I have cash, I use it and don't even think about it.
I don't budget out where ALL my money is going.
Every time I try I get frustrated and blow my budget somehow– and not like a $20 something, I go crazy! My miscellaneous section of my budget is probably unheard of for most people but it's for whatever I want so I don't feel so restricted. I could either go out to eat or a concert. I like the power to choose.
I use auto draft.  
I also draft out college funds and emergency funds (its only $25 a month for each but I feel like it's a start). If I never see the money it's like I never had it in the first place. I have spaced everything out evenly between my two paychecks. This also keeps my miscellaneous budget in check because the bills are going to get paid on a certain date no matter what and I HAVE to have the money there to do it.
I buy Christmas year round.
I have exactly 12 people to get Christmas presents for, so I budget one a month.  Everyone knows that retail during the holidays is crazy, so I hardly have time to breathe let alone shop. I have also found the best deals earlier in the year.
My husband is not a money person. He buys regularly buys WATER (which you can get for free!), and as much as I try, he doesn't get it. I don't let him deal with money issues, and he is ok with that. We are now 1 year away from being debt free and that feels so good to say that.
Do you have a money story? Click the contact tab at the top and share your story with us!
(Please Note: Not all stories will be published.)
_____________________________________________________________
Jenn Avalos is a 25 year old wife and mom to Tyler who is 2 ½. She lives in Northern VA and is a store manager at a busy outlet mall. She's not a blogger, but likes to write.
You May Also Enjoy: