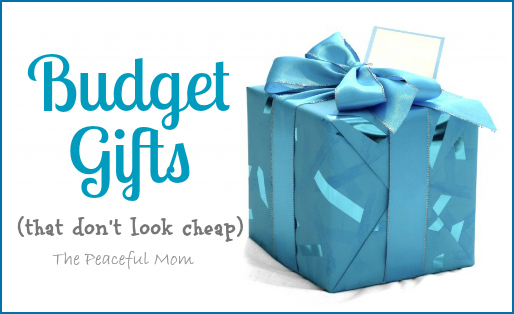 Gifts can be a real problem area for the budget. I like to give gifts that look nice, but I don't want to spend a lot of money. To keep my gift giving in balance, I use a three-pronged strategy. 
Stock Up on Clearance Items
I shop clearance items throughout the year and store them in a closet where I "shop" when I need something. After-Christmas and after-summer clearance are especially wonderful for this! (Read my 6 great after Christmas buys post here).
This strategy works very well for children's birthday party gifts and bridal shower gifts. It's important to keep a list of your current inventory in your purse, though, so you don't end up with 20 bridal shower gifts and no presents for the birthday party your child was just invited to.
Make Something Personal
Two of my all-time favorite gifts are a hand painted quilt that I received from a friend when my son was born, and a pair of hand painted baby shoes that I received when my daughter was born.
If you are talented and can knit a baby blanket or embroider a ready made blanket or towel, I think these make very sweet gifts for baby showers. A fun idea for a wedding gift is to purchase a nice picnic basket at a thrift store, paint the couples last name or initial on it and fill it with a glass bottle of sparkling water, some chocolate and a nice tablecloth. Add a note about having a romantic lunch date. Baked items can also be an inexpensive, but appreciated gift when packaged nicely.
Make a Team Effort
Another way to make gift giving more affordable is to join together with friends or family to purchase a larger gift. Each person contributes a set amount of money depending on the cost of the gift, and one or two people take care of the purchase and wrapping. Everyone who contributes should sign the card for the person.
This works especially well for baby showers where moms need expensive items like car seats and strollers.
Gift giving should be a regular part of your budget and the money should be set aside in a separate envelope or account until you need it. If your budget is so tight that you really can't afford to give anything, you can write a nice card explaining your situation. I have actually had to do this a couple of times in the past and friends were very understanding. I believe it is more important to take care of your family's needs than to worry about what someone else thinks.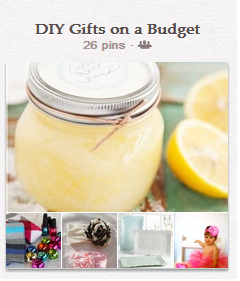 Check out our DIY Gifts on a Budget Pinterest Board for more budget gift ideas that don't look cheap.
You May Also Enjoy: