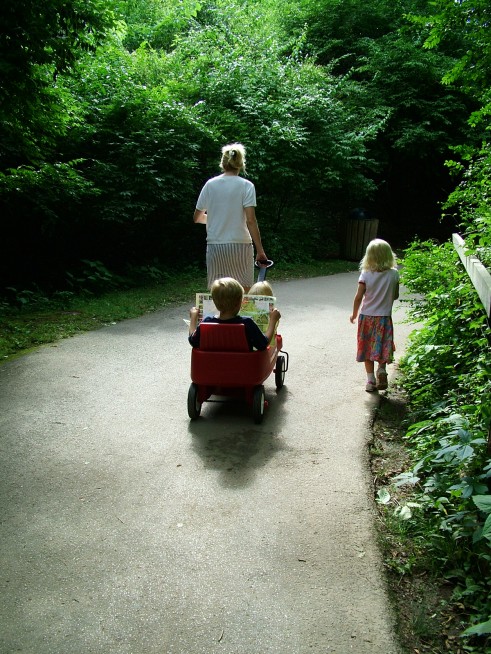 7 Tips to Become a More Peaceful Mom is a guest post by Andee.
________________
She wakes up and spends one hour of quiet time by herself before getting dressed and putting on a cute stylish outfit and makeup on. Then, just as the clock turns 6:30 am she calls "good morning" in a sing-song voice to her sweet little babes. Everyone rushes off to school while she stays home and prepares the night's meal in advance.
Once that's done, she's off to the grocery store where she makes wise buys, saving over fifty dollars at the register with her well timed purchases and coupons. Then she's home just in time to bake fresh cookies before the kids come scurrying up the walkway. Ahhh, the bliss of motherhood…
Does this sound like someone you know?
She might not live on your block, but she lives in the most dangerous neighborhood in town, your mind. Oh how she gets to me with her sweet perfect self, tempting me to compare myself to her, but I'm ready to say goodbye. Join me, won't you?
We often compare ourselves to some image of perfection, but I'd like to invite you to welcome a new neighbor in town. Maybe we can all be inspired by her today.
She's no perfect mom, but she is a peaceful mom. She wakes up and gets to spend 20 minutes to herself on a good morning and she enjoys every sweet minute of it. On the days she misses it, she shrugs it off and makes a point to sneak in some time throughout her day.
As she hurries to get the kids ready for school, she realizes that she forgot to prep the coffee and breakfast last night, but she smiles knowing she did manage to pack lunches the night before. While the kids are gone to school she does a few errands before she has to go pick them up. She didn't have time to hit the grocery store yet, but she's crafty with the leftovers, and the family manages to have a great stir fry for dinner. It's been a long but happy day.
Would you like to invite the peaceful mom to take residence? Here are some simple tips to get you there: 
1. Give yourself a break. Laugh at yourself instead of criticizing.
2. Praise yourself for the good things you've done. Everyone needs encouragement, even you!
3. Do what you can, and let the rest go. Know that no one ever gets everything done in one day.
4. Take some time just for you. Even five or ten minutes here or there can make a difference. Stop and enjoy something, the smell of fresh brewed coffee in the morning a flower, the sunset.
5. Look for something you love about each member of your family. Delight in a small moment today, especially with the kids. These days are precious and they move along faster than you think.
6. Smile. Studies show that when we do, we actually feel happier.
7. Compliment yourself at the end of the day. Meditate on your favorite moments of the day. When we think of what we love about our day, it magnifies the good and shrinks the bad.
Now it's your turn. What's one thing you can do this week to be a peaceful mom? I'd love to hear from you! Share in comments.
___________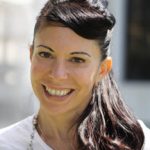 Andee Flynn is an author, speaker, personal coach, and blogger. She makes it her goal to seek joy wherever she goes. Read more from Andee at Joyful Project. Follow Andee on Twitter.