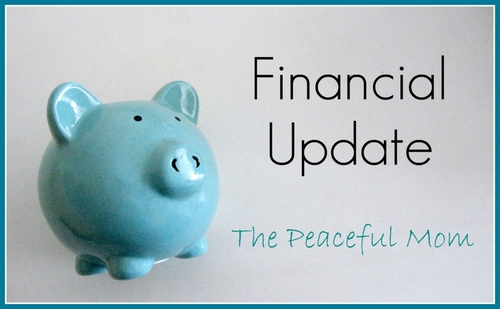 In conjunction with the Living on Less Than $28,000 A Year series, I started sharing periodic Financial Updates. I don't always give specific numbers, but I thought it might be helpful for those of you in a similar situation to have a little window into how things go at our house.
August was a good month for us. We made a few hundred dollars more than normal, and thanks to a $100 Walmart gift card we earned through Perkstreet (see the details here), we were able to get my husband a new mp3 player and $60 worth of clothing for my daughters for FREE! I love FREE!
Here's a look at our spending for this month. Amounts in red were over the budgeted amount. Amounts in green were under the budgeted amount. 
Utilities $400 ($300 budgeted–$100 over)

Groceries $588 ($500 budgeted–$88 over )

Gas for Car $265 ($320 budgeted-$55 under)

Toiletries and Nonfood $34.97 ($50 budgeted- $15.03 under)

Clothing $21.59 ($50 budgeted-$28.41 under)

Eating Out $75 ($50 budgeted- $25 over)

Miscellaneous $135.77 ($75 budgeted-$60 over)
Most of the money that we overspent came from extra money in the categories of the Freedom Account (read more here). For example, we put $75 from each paycheck into the Utilities category of the account and we leave the money there during the months when the power bill is lower. Then when the bill is higher in the summer months, we have the money to cover it.
I do have a budget confession though. We took $200 from our emergency fund (not shown in the figures above) to buy a new bookshelf and to take some friends who were visiting from out of town to dinner (please don't tell Dave Ramsey). We had to spend money from the emergency fund last month to pay for part of a car repair, so we are down several hundred dollars. If we were perfect, we would have skipped the eating out and the bookshelf, and left that money in the emergency fund. We would have also skipped the other eating out we did and added that amount to the emergency fund.
Um…as you can see, we are far from perfect.
I will be making an concerted effort this month to put that money back into the account (scout's honor!).
How did you do last month? Were you able to stick to your budget? Leave a comment so we can encourage each other.