I have been hearing from some readers that they are no longer receiving the updates from The Peaceful Mom Facebook page in their news feed. Facebook seems to have a mind of its own, but if you are having a problem receiving updates there are a couple of things you can do: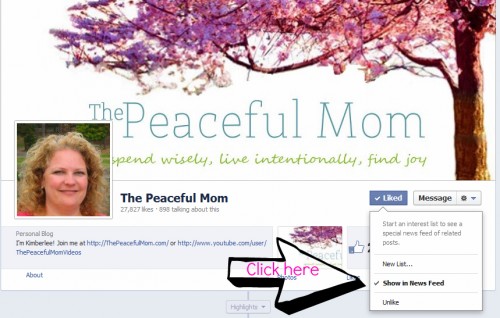 Choose "Show in News Feed"– Hover your cursor over the "Like" button. When the screen pops up, click on "Show in News Feed".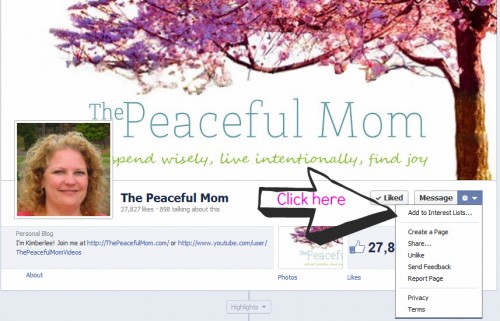 Create an Interest List- Hover your cursor over the "gear" button to the right.
Click on "Add to Interest List"  (If you don't have any yet, click "new list")
Add pages and people that you want in your list.
Name your list (example "Blogs I love") and choose who can see it (Public, Friends or Just You)
The list name will show up in the left side bar of your home page and you can click it to see new posts from those pages.
Interact with The Peaceful Mom Page– Facebook tracks what you like and interact with, and shows you more of those things in your feed. You can increase your chances of seeing future posts by "liking" individual posts and commenting on them.
Hopefully, that helps. Remember, you can also sign up for my daily or weekly email newsletter here (and get a FREE copy of my new ebook Stress Free Meals!).