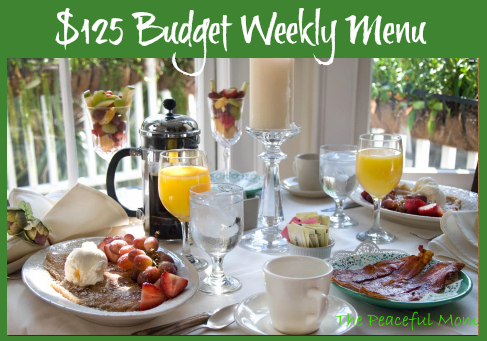 $125 Budget Weekly Menu –If you read my post last week, then you know that after two years of $100 Budget Menus, we have decided to increase our grocery budget to $125 a week for six people including three teens.
Check back later to see my shopping for this week and whether or not I was able to make the budget. 🙂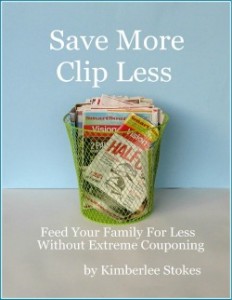 If you would like to save money on your groceries without extreme couponing, check out my FREE ebook Save More-Clip Less! 
Here's  a look at what we are eating this week:
(*Items marked with an asterisk were purchased in previous weeks in the $100 Budget and are in the pantry, fridge or freezer. Click purple links to go to recipes!)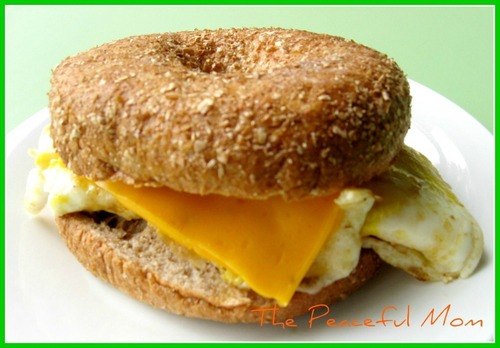 BREAKFAST
Egg and Cheese Bagel
Homemade Waffles with DIY Waffle Syrup
Cereal with milk x2
Yogurt, banana
Cheese Toast, fresh peach slices
Fried eggs, toast
LUNCH
Turkey Pepper Jack Grilled Cheese, cucumber slices
Ham Sandwich, carrots and ranch dressing* x2
Nachos with avocado slices
Snack lunch: salami, pepper jack cheese slices, green pepper slices
Macaroni and Cheese*, green pepper slices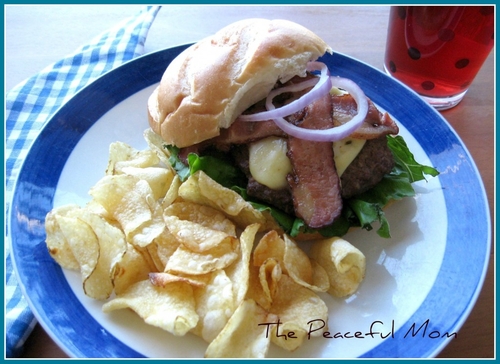 DINNER
BBQ Bacon Burgers, Home Fried Potatoes
Roast*, mashed potatoes, steamed green beans
Hot dogs, baked beans*, romaine salad
Roast Chicken*, Pasta Salad (without the chicken)
Chicken Enchiladas (with leftover roast chicken), rice
Taco Salad
Breakfast for Dinner: scrambled eggs and bacon*
Read what we do about snacks here.
What are you eating this week? Leave a comment or link. 🙂
Please Note: I post my weekly menu to encourage menu planning and to give meal ideas, not as a nutritional standard. You should feed your family based on your priorities and values.
If you would like menu planning help, check out eMeals*–weekly menus based on your local store's sales including recipes and a grocery list! Click here and use promo code PEACEFUL for a 10% discount off of eMeals already low prices!
*affiliate link


You May Also Enjoy: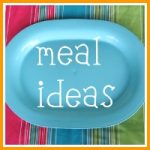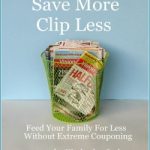 For more menu ideas, check out OrgJunkie Menu Plan Mondays.