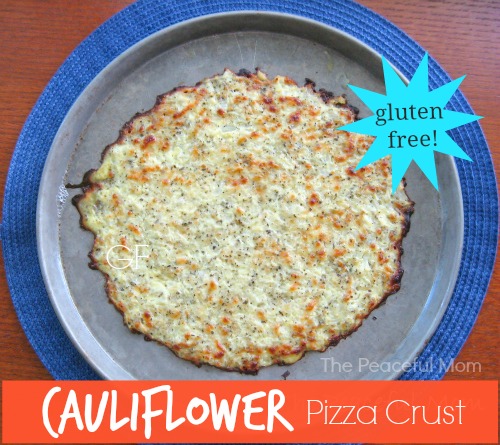 We like our pizza around here, but with a gluten free child the options can be expensive. We have a favorite gluten free pizza crust recipe, but my adventurous daughter always likes to experiment with new things. When we found this Cauliflower Pizza Crust Recipe, we had to give it a try. 
The key to this recipe is grating your cauliflower. The original recipe says to grate the raw cauliflower. We found that it was easier to steam it first, then grate it. You can decide for yourself which method you prefer. (See the notes below the recipe for instructions.)
Cauliflower Pizza Crust Recipe (gluten free)
A delicious gluten free recipe from The Peaceful Mom!
Ingredients
1 cup steamed and grated cauliflower (see notes)
1 cup shredded mozzarella cheese
1 egg, beaten
1 teaspoon dried oregano
1/2 teaspoon crushed garlic
1/2 teaspoon garlic salt
Instructions
Preheat oven to 450 degrees.
Spray a cookie sheet with olive oil.
In a medium bowl, combine cauliflower, egg and cheese.
Add oregano, crushed garlic and garlic salt.
Stir to combine well.
Transfer mixture to cookie sheet.
Pat out the mixture like dough to form a thin crust (approximately 9 inches in diameter).
Brush top of crust lightly with olive oil.
Bake 15 minutes.
Remove crust from the oven and add your sauce and toppings (meat should be precooked).
Place pizza under a broiler on high heat until the cheese is melted and bubbly. (Approximately 3 minutes).
Enjoy!
Notes
To prepare cauliflower: Take 1 large head of cauliflower. Remove stems and leaves and chop florets into chunks. Steam cauliflower in a colander set over a pan with 1 inch of water for about 5 minutes or until it is tender, but not soft. Run steamed cauliflower under cold water to cool it and then grate it using a cheese grater.
https://thepeacefulmom.com/2012/08/29/cauliflower-pizza-crust-recipe-gluten-free/
If you decide to try it, let me know what you think. 🙂
I'm linking up at Tasty Tuesdays and Gluten Free Wednesdays!
I'm also linking up to Allergy Free Wednesdays
You May Also Enjoy: