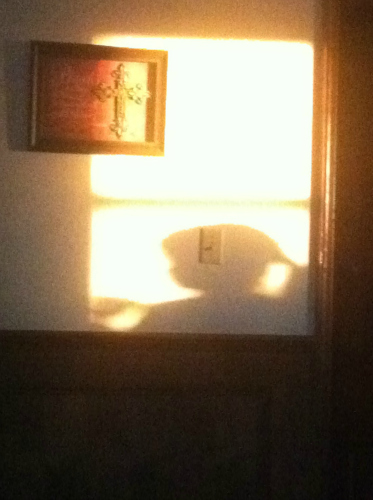 (I really enjoyed this post from Ashley. I realize that some of my readers are not Christians, but I think she makes a really good point about taking care of our finances.)
At Peace is a guest post from Ashley.
____________________________
I have a confession…I used worry too much! I know the Bible says not to but I still found myself thinking and worrying and stressing over money.
And why did I worry? Because I didn't know.
Didn't know what, you ask? Didn't know how much money I had.
When it got close to payday I would worry because I didn't know if we had enough to finish the week. After payday I would worry because I didn't know if I would be able to pay all the bills. I would just kinda drift along financially, hoping we would be ok, not  really taking charge of the finances or the bills. As a result we have paid a few overdraft charges, late fees, and had to take out personal loans just to keep afloat.
A few weeks ago I had a little revelation, a word from the Lord: He told me to just do it. Just check the bank account. Just write down the bills. Just do the math.
So I did, even though it was hard and I felt a little like throwing up….ahem.
Here's what I found…
I still had a little money in the bank.
We weren't going to go over before next payday. However, I'm certain if I hadn't checked the account and didn't know exactly how much we had left we would have spent unknowingly and would have been overdrawn.
We were going to have enough money in the paycheck to pay the bills with a little left over.
Sure, it wasn't as much as I wanted it to be but again, the knowing kept me from spending what we didn't have.
God is my supply, not my bank account.
No matter what the calculator says, no matter what the bank balance is, God is my source. Period.
I found peace. 
There is peace in knowing.  It feels good to know what you can and cannot spend.  Even if you find that you don't have as much as you would like, as long as you know what you have there will be a peace.
I have found if I go a few extra days without checking the bank balance the worry starts to creep back in. What if I go over? What if that last payment gets returned? What if what if what if…..To shut that down I have to go check. Keeping a close eye on our money these last couple of weeks has really helped free up my mind.
Go now. Check your accounts. Stop the what ifs. Receive God's peace and rest in Him!
_____________________
Ashley is a stay at home wife and a homeschooling mom of 4 beautiful girls. She is a lover of Jesus and a daughter of The King. She blogs about her life in the kitchen and home at Forever In The Kitchen where she is cooking up goodies for the spirit, soul, and body.