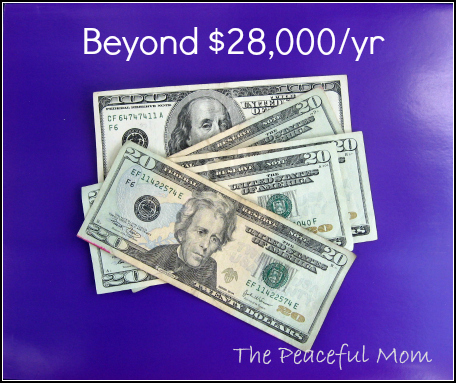 Six months ago I started a series on my blog detailing why and how we live on less than $28,000 a year. (You can read that series here.) I had no idea that writing those posts would begin a journey for our family that has changed the way we think about money, and life.
When looking at your family's financial situation, there are only three possibilities for changing where you are:
Pay more attention to where your money is going;
Lower your expenditures;
Increase your income.
Some people may need to take action in all three areas to see a change in their financial situation.
For our family, we had lowered the expenditures to just about the bare minimum: one car, $100/week grocery budget, drinking only water and line drying our clothes. I was content with those choices because as I mentioned in my very 1st post of the series, we made the choice to live on less so that I could simplify our life and be home to homeschool our four children, one of whom has learning issues.
An interesting thing happened, however, as I read and responded to comments. I started thinking again about our decisions and about my mindset regarding money. I wrote a post about poverty versus frugality which was the beginning of the change in my thinking.
I started feeling that I had limited myself because of my poverty mentality. I think contentment is a valuable character trait, and I try very hard to practice it, but I started to feel that I was no longer just being content, but depriving myself and my family of the abundant life that I believe God has for each of us.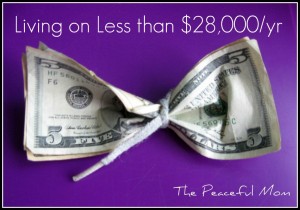 The photo that I chose for the Living on Less Than $28,000 Series represented my thinking about finances perfectly–TIGHT. While we have done a pretty good job of living our values and focusing on relationships rather than material things, I have actually made money more important in my life than it needs to be. I have spent a lot of time and effort to control money rather than letting it flow through our lives. (By the way, when I say "flow", I don't mean spending mindlessly and watching our money flow out of our bank account.)
As I evaluated everything, I felt that I was living a "less than" life. I was not living up to my full potential financially or in any other area.
So I started a journey, a journey to become all that God created me to be and to live in all of the abundance that He has for me– spiritually, financially, emotionally, physically. It isn't really about a specific income number (although our income has increased a little), or about spending the least amount possible on every purchase. Living an abundant life has more to do with knowing my core values and truly living them–living intentionally rather than just allowing life to happen. It means opening myself up to possibilities instead of controlling and restricting myself.
In the next few weeks, I will be sharing the process that I have been going through toward leading a "MORE" life. I'll tell you how my thinking has changed and how my life has changed and maybe my journey will help you to see money and life differently as well. If not, maybe it will at least be interesting reading. 🙂
Next Post In This Series: Passion