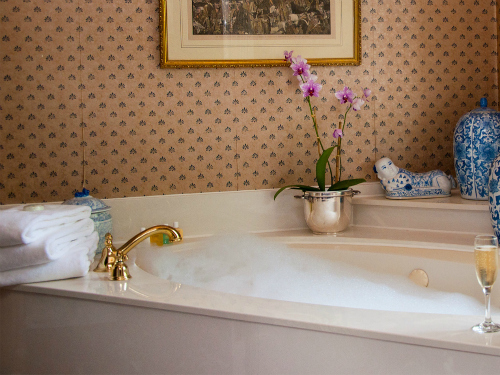 Can a Bubble Bath Save Your Life is a guest post from contributing writer Andee Flynn.
Can a bubble bath save your life?
It sounds crazy, I know. But allow me to share with you how the simple act of taking a bath changed my heart and my life.
It all started when I was young. I traveled down a wrong path making one bad decision after another. I was a hot mess. 
But in 2003 I made a commitment to change, and in 2004 I began working with a woman named Linda who was a mentor and coach to me. She helped me to bring balance and order into my life. At that time we started working on forgiveness.
I have learned that when I hold unforgiveness in my heart, I am inviting heartache, shame, bitterness, and anger to take root in me. I also believe unforgiveness can open the door for physical illness and discomfort. My mentor and I were taking time out to work on the people that I was still harboring resentments towards. As we were doing this, she presented something that completely shocked me.
"Have you forgiven yourself yet?"
Whoa! Stop the clock here. Forgiving myself?
As we talked, I realized that she was right. I needed to forgive myself for a lot of things. I was mean to myself, I would criticize myself and tell myself things like,
"You're not good enough."

"You're too fat."

"You're not smart enough for that."

"You don't fit in here."

"Nobody wants to hear what you have to say."
I had also taken refuge in quite a few bad habits to hide from the pain I felt on the inside, including drinking too much, taking drugs to escape my pain, looking for my self-worth in the eyes of guys I had dated, leading to promiscuity.
I also needed to forgive myself for hiding from my pain in all sorts of places that not only led to hurting myself but hurting others around me.
Linda told me that forgiveness was not a feeling, that it was a decision. With every new decision I made, I was required to take new actions to solidify this decision. She told me I had to do something nice for myself every day. And I had to choose something that wouldn't serve any other purpose but to be kind to me. It couldn't be for anyone but me.
She told me she took bubble baths and since I couldn't think of anything else to do, I followed her example. I started taking daily bubble baths. I didn't have time in the evenings, but I could wake up a bit early. So I'd get up about 15 minutes earlier than usual and instead of a shower, I'd fill the tub with bubbles.
I was shocked at what happened in my heart while I took my baths. At first I felt so guilty. Why did I deserve such a treat? Who did I think I was?
Now, I can clearly see that was proof enough that I needed to learn to be kinder to myself. All these years I was punishing myself and I didn't even know it. Little by little, my heart started to shift. I even bought some fancy bubble bath- the kind I would only give as a gift, but never splurge on for myself. That was huge for me. I never used to feel like I deserved to treat myself. And every morning, as I played in my bubbles, my heart started to soften.
In the years since, I have coached many women, and often times I suggest this very thing-that they do something kind just for themselves each day. One young woman I know didn't have a bath tub, but she loved coffee. She got a beautiful coffee cup, and a special coffee brew and would dedicate 15 minutes each day to sipping and enjoying her coffee.
Maybe you want to join us? I dare you to take a step towards forgiveness. Write a list of all the things that you've done to hurt yourself with. And make a daily commitment to forgive yourself. Not just in thought, but in deed.
Once you have made your list, take an action: Do something nice for yourself every day.
Also required- if you "mess up" or forget, you are not allowed to beat yourself up about it. Just take the action again tomorrow.
I would like to encourage you to do this for 30 days.
If you can't think of anything to do, take a bubble bath. If you don't have a tub, treat yourself to a special cup of coffee or tea and spend 15 minutes enjoying it.
I'd love to hear how you do! Share in comments, or email me at andee (at) joyfulproject (dot) com.
______________________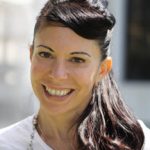 Andee Flynn is an author, speaker, personal coach, and blogger. She makes it her goal to seek joy wherever she goes. Read more from Andee at Joyful Project. Follow Andee on Twitter.