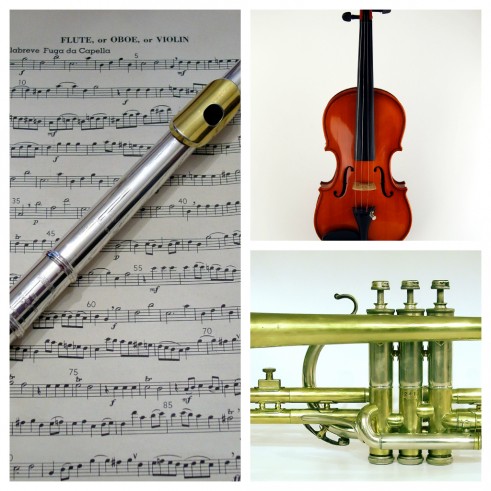 Selecting An Instrument For Your New Band Student is a guest post from by Chad Criswell.
The beginning of a new school year often marks the beginning of a very special opportunity for many 5th and 6th grade students, the chance to join the school band or orchestra. Different schools start their programs in different ways, but in every case it always begins with your student selecting an instrument to play.  Which one is the best instrument for a new band student to play?  The answer is as unique as the child is himself.
Choosing The Right Band Instrument For Your Student
In many schools the band director will meet with all of the new or potential band students and have them try out on the various instruments in the band. If this is the case for your particular school then take a serious look at the recommendations given by that teacher. There are many physical things that make a specific instrument a good or bad choice for a specific child. Things like arm length, lip size, breath control, braces, and other dental problems can all have a significant effect on how easy it is for a student to learn an instrument.
Some school districts do not do official try-outs for the band, but instead they ask the students and their parents to go down to a local music store or they have a "demo night" where the various vendors bring their instruments to the school and have all of the students try out and make the decision of whether to buy or rent their musical instruments right then and there.
In cases where neither of these options exist you can almost always go down to the local music store that sells band instruments and ask them to do a tryout for your child.
But We Already Own An Instrument!
One of the biggest problems that I see as a beginning band director is when a family forces a child to play an instrument simply because it is what they already have available. While money and financial considerations is always a concern, starting a student on an instrument that they are not physically built for is a VERY bad idea and almost always dooms the student to mediocrity or failure on the instrument.
For example, students with very small hands and thin fingers are usually not recommended for clarinet because they can have difficulty closing the keys at the lower end of the instrument. Students with short arms have problems playing the trombone. Kids with braces can have serious problems playing the trumpet, and the list goes on and on.
Even if you or your student already has an instrument in mind please consider going down to the music store or giving the band director a call and find out what they think before you make the final decision. Being in the school band can be the beginning of a wonderful, life long activity for a child, but it all hinges on the decisions made at this very modest beginning of their career.
————————————————
Chad Criswell is a nationally recognized writer for NAfME Teaching Music Magazine and the editor of MusicEdMagic.com, a web site full of resources, free sheet music, and advice for young musicians and music teachers alike.
You May Also Enjoy: