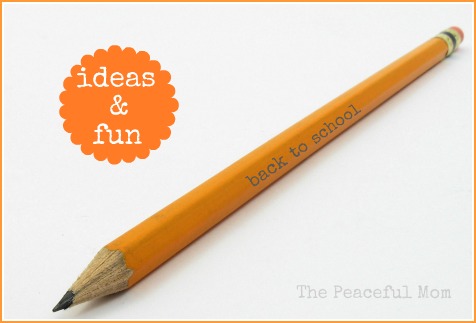 Getting Organized On A Budget is a guest post from Ellie.
Getting more organized has been one of my major goals lately so we've been spending this summer getting ourselves all organized for our next upcoming home school year! There's way too much on my plate for me to keep everything in line. Eventually, I'm going to forget something and let someone down, and that's always the last thing that I would want to do. Enter my new organization binder.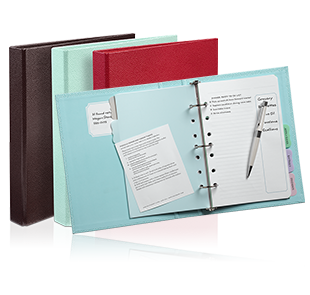 Martha Stewart has a great line of organizational products, and I REALLY wanted her turquoise colored binder like you see here. It even has all kinds of decorative, rainbow colored accessories that I was dying to get my hands on. But the money? Yeah right. . . . . .  for what I wanted to do, I was looking at close to $50 bucks when it all added up!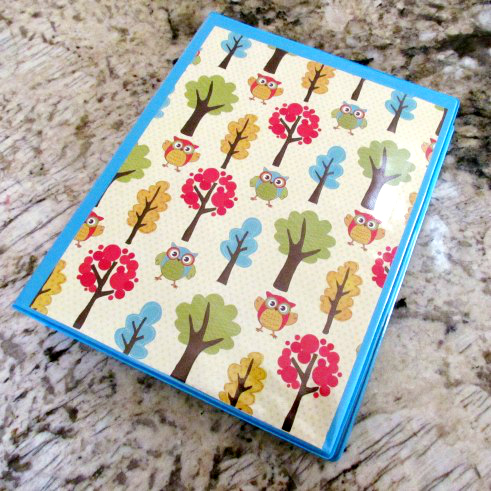 Instead, I hit up my local Office Max and found these small binders (about 6″ tall) that were the exact shade that I wanted with a clear front. I had the girls pick out some decorative scrapbook paper for me and they went for the adorable owls!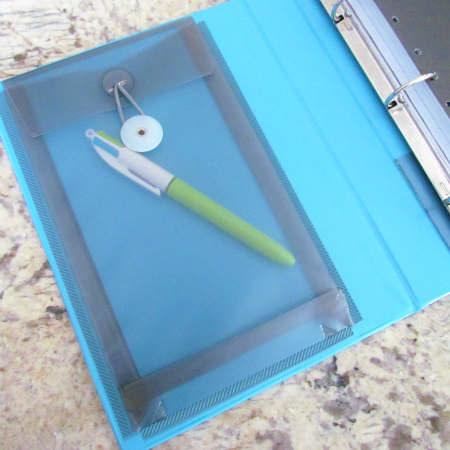 They also came with a pocket built into the front that can hold my multi-colored pen so I can keep everything straight! It's like I'm back in Jr. High again, huh?!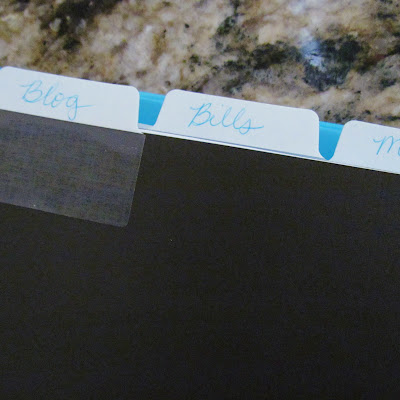 I also found some stick on divider tabs and used some thick cardstock to create my own dividers – as many as I needed. Right under the small binders at the store were all of the monthly/weekly inserts that you could buy for only 3-4 dollars, as opposed to the 8 or 10 dollars that Martha wanted!
I bought a couple of the month by month calendars, a weekly calendar, and a couple of the "notes" packets. I separated my binder into the things I really need to keep track of – "Bills,"  "Blog," and "Meals." Plus the labels are super easy to peel off and replace with a new one so if I ever need to change sections I can!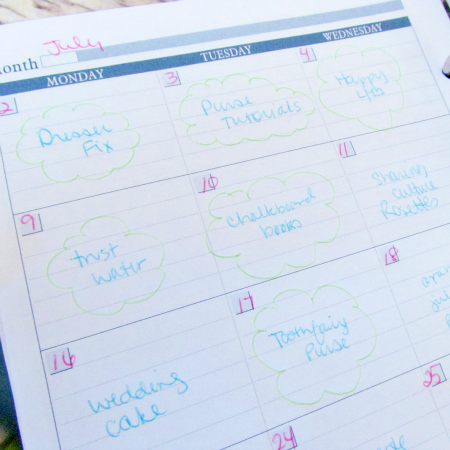 For the blog, I used a monthly calendar so I could see everything at a glance and know what still needed to be worked on. The thing that got me most excited was my multi-colored pen – Nerd alert!  But seriously, it's helped me so much!
When I have a topic I want to write about, I write in on the calendar in blue and start a post that I save to "drafts" on blogger. Once I have it totally written and scheduled, I circle the post name in green so I know it's all ready to go and I can focus on the other posts that are still waiting.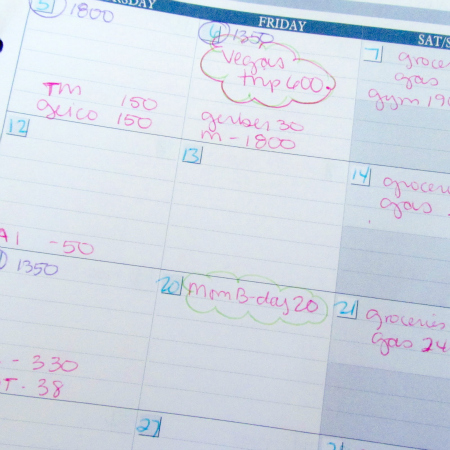 Same thing with my bills–I transferred over all of my bills information, which was pretty easy, since I already had them written out several months ahead of time, and added them to one of the monthly calendars.
I write all of our upcoming expenses in pink, even our special events that I circle in green. When something gets paid or comes out of our checking account, I cross it off in green so I know it's taken care of.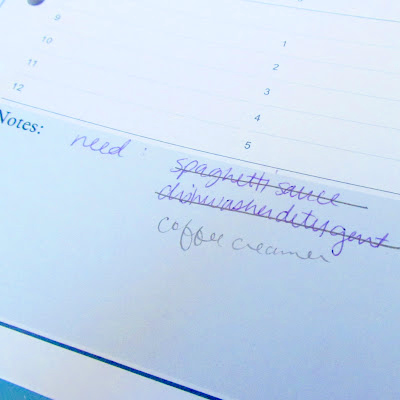 The last section is a weekly calendar that I can just write all of our normal household appointments on, doctors, dentists, etc. I also have the girls help me do our meal plans during the weekend and then we make up a groceries list, so I can add that to my binder as well.
I write our meals in purple so that I can look at it the day before and see if I need to take anything out to defrost. At the bottom of the notes section I add any groceries that I  need to pick up for that week.
In the very back of the binder, I also have some larger "notes" paper that I can keep a to-do list. Way too many times I'll think of something during the day that I need to take care of when I get home, but when I get home, I'm so fried from a long days work that I've totally forgotten it and it never gets taken care of!
So now I'm fully prepared and organized for another home school year. All I need to do is keep it up!
What's your favorite organizational tip? Any great ideas?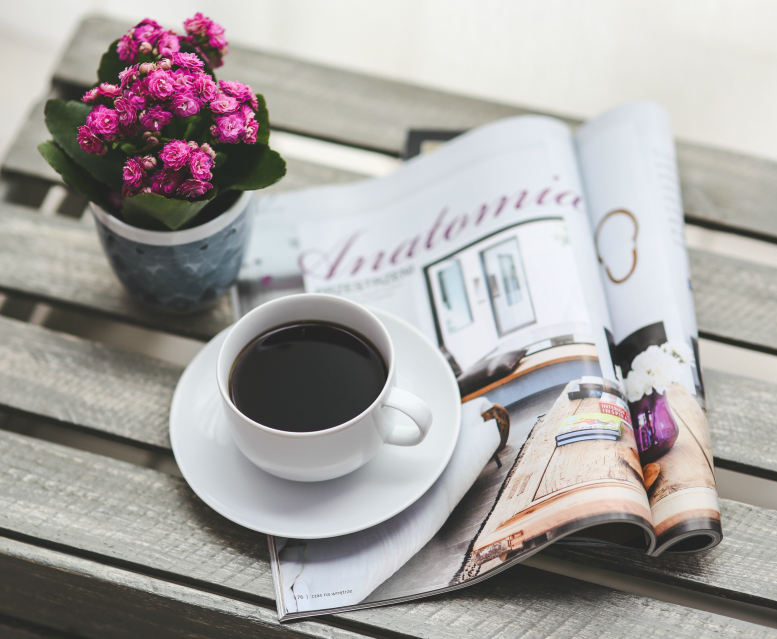 Want Back-to-School to look like this?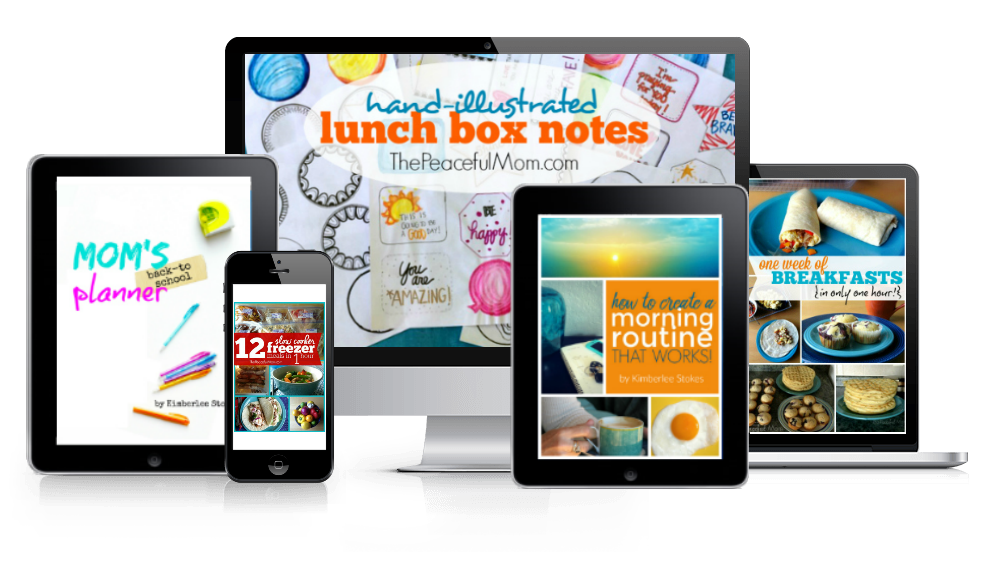 You need the Mom's Back to School Planner Bundle.
Click HERE to see what's inside and grab a sweet discount!

_____________________________________________
Ellie Perez works full time as a foster care/adoption social work and home schools her two girls ages 6 and 9 in the evenings and on weekends. She and her husband have been crazy about paying off debt and have been "cash only" for almost 2 years. They are working toward being debt free except for their house, one car payment, and a student loan in just 18 months!  
You can find Ellie at Vanilla Bean Girls where she writes along with her little girls about arts and crafts, the recipes they try, and homeschool stuff (every Thursday).
You May Also Enjoy: