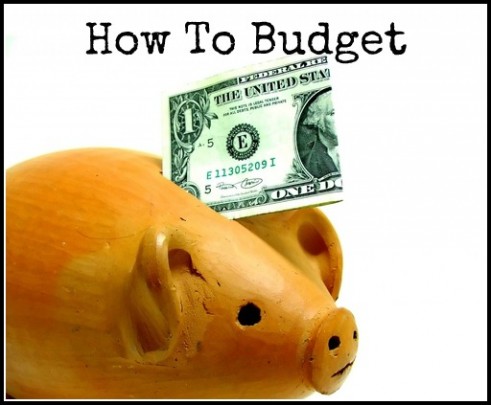 I thought it might be helpful (for those of you who wonder how to budget) to see how we planned our paycheck today. These are round numbers just to let you get the basic idea.
There are a lot of different ways to manage money. This is just what works for us. If you are living paycheck to paycheck and need to get a grip on your finances, I suggest writing everything down (using a method similar to this) for a few months. Once you get the hang of budgeting, you can use a more automated system like Mint.com.
Here's what I did:  
1. Record paycheck deposit amount in checkbook. Let's say that our income was $600 this week.
2. Add deposit amount to checkbook balance to get total amount of money available.
$600 paycheck + $25 (already in checking account)= $625 total amount of money available to work with.
3. Subract gas money ($80), and buffer* money ($20) for the week from the total amount available. This amount will stay in the account.
*This is the amount we keep in the checking account so we don't over draw it. If you are new to budgeting, you will probably want to make this amount higher, but be careful not to think of this as free spending money in your account. This is "emergency" money.
 $625 total – $100 staying in account= $525 left to budget
4. Subtract grocery money ($100)–(This is strictly for food. Money for non-food household items is listed below.). Record $100 withdrawal in checkbook register because this $100 will be taken out in cash at the ATM when I do my shopping.
$525 – $100= $425 left to budget
5. Determine amount to transfer to second account. You can read more about this here, but basically I transfer money to pay rent, bills and irregular expenses to a separate account:
1/4 rent- $260 ($1050/month)
1/4 average utilities $100 ($300-$400/month)
1/4 monthly car insurance amount $40 ($160/month)
1/4 monthly life insurance amount $15 ($60/month)
remainder in car maintenance fund $10 (we would like this to be higher)
Total: $425
We don't need any nonfood items this week, so I placed the "extra" money into the car repair fund. If we needed toiletries or other household items, I would add that $10 to the grocery money when I take out cash on shopping day. This means that no extra money went into the clothing, medical or miscellaneous savings categories.
6. Transfer money to second account. By immediately transferring the money to pay bills into our second account, it doesn't look like we have "extra" money to spend on impulse purchases.
$425 available money to budget – $425 transfer to second account= $0 left to budget
This is what is called a "Zero-based budget" meaning that every single dollar is accounted for.
Of course, your plan will look different because you will make different choices, but this gives you an idea of the mechanics of what we do each week to plan our money. Our pay does not cover every expenditure or spending category that we would like to fund, but by putting money in the most important places and being careful, we can make it work.
When we make extra from my husband's second job or other sources, we try to put most of the money into our emergency fund, but life doesn't always work perfectly. We just do the best we can with what we have.
You May Also Enjoy: