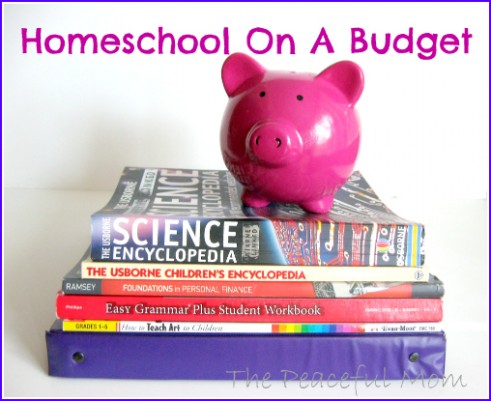 Yes, we homeschool and yes, we homeschool on a budget.
If you have been around The Peaceful Mom very long, then you are probably aware that we are a homeschooling family. I have had a few people ask how we are able to educate our children with our "low" income, so I am sharing what has worked for us. By the way, it is a widespread misconception that more money means a better education, but that is another topic for another day. 🙂
As for how we manage to educate on our income, here are my top 5 tips for homeschool on a budget: 

Use Free Resources
The best way to save money on homeschooling is to take advantage of free materials and activities. There are many, many free resources available through your public library and online.
We have not only found books at the library, but science and history dvds, audio books, children's books on tape (great for learning readers!) and preschool learning kits. If your library doesn't have a wide selection, try local homeschool groups. Some have lending libraries or access to materials for a small charge.
Local extension agencies and colleges often provide free classes and information. You can also turn local events into learning experiences like a Medieval Festivals (although some charge an arm and a leg!), state fairs, etc. Think creatively!
Click here for a list of FREE Homeschool Resources online.

Borrow/Trade
Another great way to save is to borrow and/or trade materials with a friend. If you have something you don't need this year, offer it to others in your homeschool group in exchange for something you do need.
This past year we used an expensive American History program which I was able to borrow from a friend. I had both my 9th and 11th grader do the work since we had it for one year. The previous year, we borrowed a World History Program. This year we traded our math curriculum with another family because we are both using a level that the other one has, but isn't going to be using.
If you want to borrow curriculum, make sure to set some ground rules:

*make a complete list of everything you are borrowing/lending

*clearly convey the time frame you are loaning the material for

*take extra good care of the materials (don't bend the books back, get them wet, etc.)

*if something happens, replace the book or item
Just a note- If you lend your materials to someone, have an open mind and hand. Your books and other items will more than likely not be returned in pristine condition. If this will bother you, don't lend them out. Sell them or save them for use with your next child.
While I have had many good experiences with borrowing materials, I had one unfortunate experience. I loaned out an expensive curriculum, but I did not make a list of all the books included and found when they were returned that many were missing. The person who borrowed them claimed that they weren't there to begin with. 🙁

Recycle
Hand-me-downs can be a great thing! Any books or materials which I purchase to use for an older child, we pass down to the next one in line. Other than social studies, I have a complete high school curriculum that we just keep using with each new high schooler. This cuts costs tremendously!
For consumable workbooks, my children write their answers in a composition book so that the workbook can be used again–another big money saver.
For younger children, you can also place workbook pages or printable worksheets in a page protector and let them write with a dry erase marker. They think it's fun and you can use the worksheet again!
Buy used
New books are nice, but used books can be purchased for 50% or less off the retail price. Wear and tear will eventually happen anyway, so why not let someone else lose money purchasing curriculum new?
Check the Amazon Homeschool Section
 (some new items are mixed in) or check for local homeschool group used book sales. VegSource is another good place to look for a variety of used homeschool materials.
I recommend doing some research and deciding what you want first, because if you search for used materials online without any framework, everything will look good and you will end up spending a lot of money. Sonlight Curriculum has great reading lists for each grade level and most of the books can be purchased used or checked out from your local library.
Pray
I list this last, but honestly, if you are a Christian, prayer should be your first resort, not your last. Ask God to provide the items that you need.
My son has a math learning disability, but we have found that Teaching Textbooks works well for him. The only problem is the fact that it costs between $200 and $300 for the textbook and cd roms.
A couple of years ago I still did not have his math a week before school started. I prayed and waited, and God came through. You can read about it here.
How Do You Save On School Expenses? Leave a comment.
(Please Note: My readers come from diverse backgrounds and have differing opinions. Please keep that in mind when you comment. I would like everyone to feel welcome here, no matter what their choices. Thanks!
Also, if you are not a fan of homeschooling, please refrain from commenting about how homeschooled children need to be socialized. Homeschooling does not mean that we stay at home all day, every day. We have lots of interaction with people of different ages, backgrounds and races, and my children are consistently praised for their behavior, intelligence, communication skills and sense of humor. I can't speak for anyone else. 🙂 )