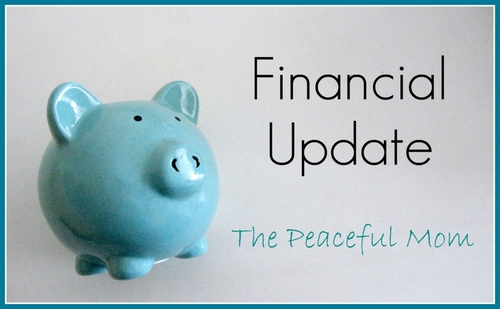 In conjunction with the Living on Less Than $28,000 A Year series, I will be sharing periodic Financial Updates. I won't always give specific numbers, but I thought it might be helpful for those of you in a similar situation to have a little window into how things go at our house.
Wow! July was a big spending month for us. Thankfully our income was several hundred dollars more than normal, but I had hoped to spend less this month.
This month's spending:
(amounts in parenthesis were taken from our second account– read more here )
Rent  $1050

Utilities (including cell phone, internet, power, water) $394

Life Insurance (quarterly pmt. paid from our second account) ($153)

Clothing and Shoes  $209  ($50 budgeted—overspent $159)

Toiletries $37 ($50 budgeted–under $13)

Household (batteries, planter, shower curtain rod, etc.) $77 ($50 budgeted–overspent $27)

Eating Out (take out pizza, 1 family dinner at a fast food restaurant, several fast food lunches for individuals) $74 ($20 budgeted–overspent $54)

Groceries: $383 (see my shopping for this month here) ($400 budgeted–under $17)

Gas: $250 ($320 budgeted–under $70)

[Thankfully gas prices went down in our area and we didn't drive as much as we had planned.]
Thanks to some areas where we spent less than we had budgeted, we only overspent our overall budget by $140 total. This money unfortunately came from our emergency fund because the categories in the second account were under-funded. Ideally we would have more money in the clothing category and we would not have eaten out as much, because we did not budget for that.
We also had a $399 car repair. Thank goodness for the emergency fund because there was nothing in the car repair category.
It wasn't a terrible month, but I think we can do a lot better so I plan to be more careful in August. We need to get the emergency fund rebuilt as quickly as possible.
How did you do last month? Were you able to stick to your budget? Leave a comment so we can encourage each other. 🙂