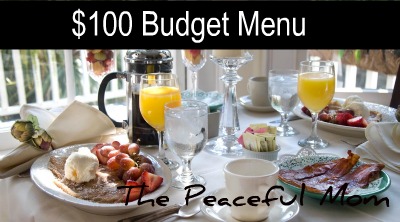 $100 Budget Weekly Menu (for six people including three teens). My two main strategies for saving money are:
(1) to make a weekly menu plan based on the sale items in my area;
(2) to buy multiple sale items when they are at their lowest price.
Instead of deciding my menu first, I look at the sale items plus what I have in my pantry, fridge and freezer, and then make my menu based on those items. (Read here how I do this step-by-step).
You may not be able to get the same kinds of deals that I do (check back later today to see this week's shopping), but you can save simply by making a menu plan. Use my menu as a starting point, or check out eMeals menu plans. They start at just $5 a month and my readers can get an additional 10% off the already low prices by using promo code PEACEFUL!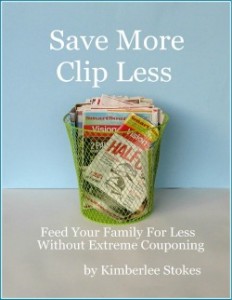 Read more about how I stick to a $100 a week budget in my FREE e-book Save More-Clip Less.
Print your own customizable menu planner form here.
*Items marked with an asterisk were purchased in previous weeks in the $100 Budget and are in the pantry, fridge or freezer.
Click purple links to go to recipes!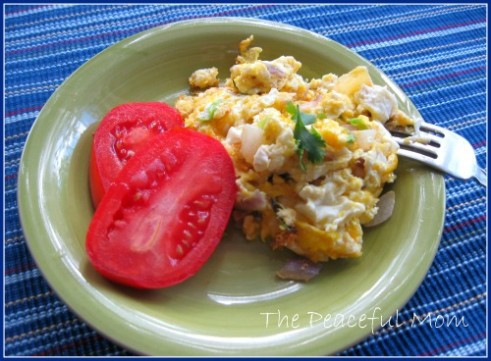 BREAKFAST
Yogurt with cherries
Cheese toast, banana
Egg and cheese bagel*
Cereal with milk x2
LUNCH
Very Blueberry Smoothie, popcorn*
Salad with pepper steak
Nachos (chips previously purchased), avocado
Turkey sandwich, pickle* x2
PBJ, corn chips* (generic brand of Fritos)
Leftovers from dinner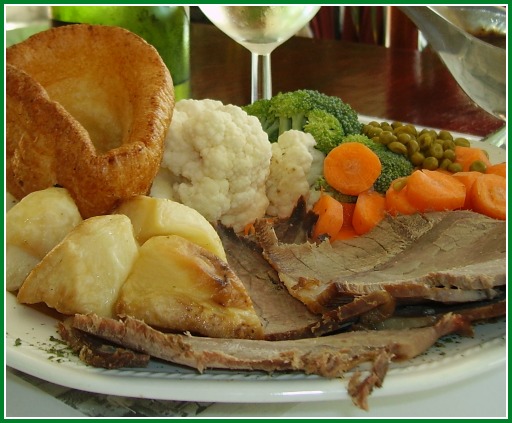 DINNER
Herbed Pork Roast, mashed potatoes, steamed green beans
Pizza, salad
Beef Franks*, Pasta Salad (made without the chicken)
Cheeseburgers*, chips
Tostadas with Beantastic Taco Meat, Tomato Cucumber Salad
Chicken Enchiladas, rice, steamed cabbage
Pork chops*, steamed broccoli and cauliflower
Read how we handle snacks here.
What are you eating this week (or planning for next week)? Leave a comment or link. 🙂
Please Note: I post my weekly menu to encourage menu planning and to give meal ideas, not as a nutritional standard. You should feed your family based on your priorities and values.
If you would like menu planning help, check out eMeals*–weekly menus based on your local store's sales including recipes and a grocery list! Click here and use promo code PEACEFUL for a 10% discount off of eMeals already low prices!
*affiliate link


You May Also Enjoy: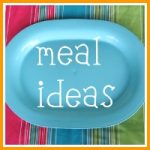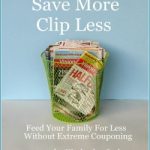 For more menu ideas, check out OrgJunkie Menu Plan Mondays.