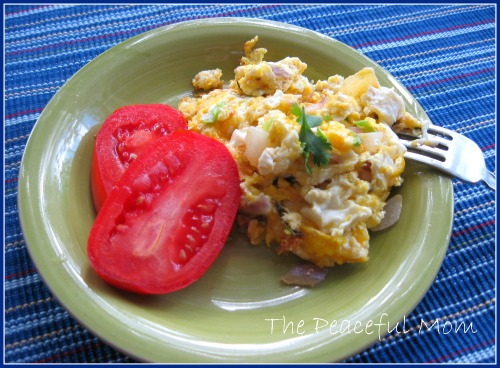 Savory Scramble-We like eggs at our house–they're a great way to get some protein in for the day. Recently, though, we have definitely fallen into a fried egg rut, so I came up with this Savory Scramble recipe to add some flavor to breakfast.
Savory Scramble (gluten free)
A tasty recipe from ThePeacefulMom.com!
Ingredients
2 tablespoons red onion, diced
1 tablespoon green onion, diced
2 tablespoons butter
2 large eggs
2-3 tablespoons shredded cheddar or other cheese
salt and pepper to taste
Instructions
Heat a small stainless steel or iron skillet over medium heat.
Add butter.
When the butter is almost completely melted, add red and green onions and saute for 1-2 minutes or until red onions become slightly translucent.
Add eggs and allow the whites to cook slightly.
Add salt and pepper to taste (freshly ground pepper is nice.)
With a metal spatula, gently scrape the eggs from the edges to the center and stir.
While the egg mixture is still wet, but no longer liquid, scoop the eggs into the center of the pan to form a mound.
Turn stove off and allow eggs to cook 1 minute longer.
Serve immediately.
https://thepeacefulmom.com/2012/07/18/savory-scramble-gluten-free/
I'm linking up at Tasty Tuesdays and Gluten Free Wednesdays!