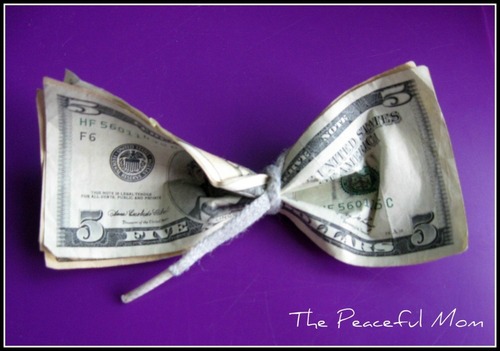 Living on Less Than $28,000 A Year: How our family of six survives (and even thrives) on an income that is less than half the national median income, and what the government calls "below the poverty line" (less than $29,990 annually) for our family size. [Read other posts in this series here.]
______________________________________________________
Join me on Twitter or Facebook for instant updates or subscribe to my FREE e-newsletter to get posts right in your inbox!
______________________________________________________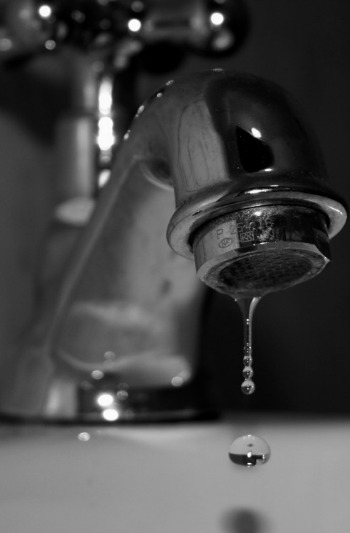 Have you ever opened a bill and practically passed out from the shock of seeing the amount owed? That happened to us a couple of years ago when we opened our water bill and saw a $300 plus total.
It turns out that we had a leak in our plumbing and we had no idea that all that water was slowly dripping out of our pipes. While each drip hardly amounted to anything, the cumulative effect was gallons of wasted water.
Sometimes our budgets can have leaks too, but we don't realize it until we receive shocking news. Maybe you open a credit card bill and suddenly realize that you are thousands of dollars in debt when you thought that you were just using the card here and there for "small" purchases. Maybe you had savings, but you slowly started spending the money on items you thought you needed and now you have nothing in the bank.
It's important to fix leaky faucets, but even more important to fix the leaks in your budget especially if you live on a smaller than average income.
Pay Attention
Spending just a little bit every day can keep you from your financial goals and eventually increase your debt load. To put a stop to the drips in your finances, start paying attention. The next time you pull out your debit or credit card, ask yourself if you really need what you are paying for or if you are spending out of convenience or habit.
If the purchase is not something you truly need, put the plastic back in your wallet and congratulate yourself for stopping a leak.
Keep a Record
In addition to paying attention at the time you spend money, you can also stop leaks by keeping track of your finances over time. To take a look at your spending patterns, you can do a little experiment. For the next three weeks, write down EVERY expenditure. You can keep an index card in your wallet or make a note on your smartphone. At the end of each week, write down your total expenditures for gas, food, clothing, etc. to get an overview of where your money is going.
I personally keep track of our money by keeping my receipts in my wallet. Every evening (or every couple of days) I write my spending on a spreadsheet broken down into various categories and at the end of the month I can see where we spent money and where we need to cut back.
[Note: There are more high tech ways of keeping track of your spending. I just happen to like using paper and pencil.]
Plan Ahead
One leaky area for our family is fast food purchases. We try to avoid eating out as much as possible, but when life gets really busy, I find myself heading through the drive through.
Just last week I spent $4.00 on lunch at a fast food restaurant between appointments. If I had planned better, I could have packed a snack from home and saved that money.
$4.00 may not seem like a lot but it is a leak, a drip that if not stopped will result in a gallon of waste. Just five trips to the drive through this month and I will have spent $20-$30 that we could use to save for a car or spend on something more permanent than a cheeseburger or a chicken sandwich.
Maybe your leaks look like $3-$5 daily drink purchases or Saturday trips to the mall for a $20-$30 weekly clothing purchase. Find creative solutions to stop the leaks like taking water bottles or travel mugs with you or planning weekend outings that don't involve shopping. Whatever your leaks are, find a cheaper alternative and change your finances.
Reverse the Flow
Instead of allowing those ones, fives and tens to slowly leak out of your wallet, why not reverse the flow and start saving those little bits of money? I know people who put their coins into a jar at the end of the day or never spend a $5 bill. Every time they receive a five, they put it directly into an envelope to save for something specific.
If you never use cash, you could round your purchase up at the register, get cash back and put the cash into a special envelope for savings. Just make sure to write down your purchases and balance your checkbook (or check your online balance daily) so you don't over draw your account.
Find creative ways to start collecting those drips and drops. Put them to work for you instead of letting them leak out of your life and you will be surprised how much you can improve your finances in a short time.
What are the "leaks" in your budget? Leave a comment. 🙂