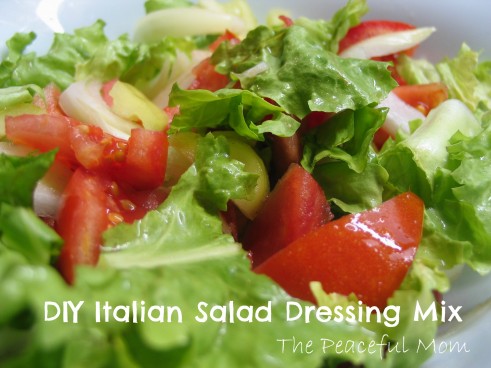 I've started making a DIY Italian Salad Dressing Mix. Not only is it cheaper than buying bottled dressing, it's also healthier and I can control the ingredients.
DIY Italian Salad Dressing (gluten free)
An easy and healthy recipe from The Peaceful Mom!
Ingredients
1 1/2 teaspoons garlic powder (not garlic salt)
1 teaspoon onion powder (not onion salt)
1 tablespoon ground dried oregano
1 tablespoon dried parsley
1 teaspoon ground basil
1/4 teaspoon ground thyme
1/2 teaspoon dried celery flakes
1 teaspoon salt or sea salt
1 teaspoon black pepper (fresh ground pepper is nice)
Instructions
Mix ingredients in a medium bowl and stir well to blend.
Store for up to six months in an air-tight container in the refrigerator.
To make dressing, pour 1/2 cup extra virgin olive oil into a glass jar with a screw top lid.
Add 1/4 cup red or balsamic vinegar.
Add 2 tablespoons Italian Salad Dressing Mix.
Shake vigorously to combine.
Store any leftovers in the refrigerator.
Notes
You can also add:
1 tablespoon granulated sugar and /or 1/3 cup powdered Parmesan cheese to the dry mix.
https://thepeacefulmom.com/2012/07/11/diy-italian-salad-dressing-mix-gluten-free/
You can also use this seasoning mix or the dressing in marinades or to season vegetables!
I'm linking up at Tasty Tuesdays and Gluten Free Wednesdays!
You May Also Enjoy: